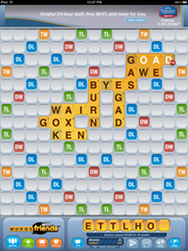 I admit: despite my past as an English major, I've been hesitant to dip my toe into the Words with Friends craze, despite repeated encouragement from friends and loved ones. (Despite a decent vocabulary, it turns out I'm just not that good at Scrabble-like games.) More to the point, though, I've been feeling a bit thrifty at having to shell out for both an iPhone and iPad version of the game. But with Monday's announcement of a free version of the iPad edition, my excuses have dwindled.
Words with Friends HD Free has all the features you love and know from the normal $3 version of the game—online turn-based play with friends, matchmaking with strangers, built-in notifications, and so on—but, as the name would suggest, it's free. But, as you may suspect, there's a C-A-T-C-H: in place of a price tag, you'll have to put up with ads, in two forms: banners that stay permanently across the top of the screen, and occasional full-screen pop-ups after you make a move.
Compatible with iOS 3.2 or later, Words with Friends HD Free is available now in the App Store. If you're looking for an iPhone or iPod touch compatible version, you have your choice of the $3 Words with Friends or the ad-supported Words with Friends Free.