When Web comic artist Rich Stevens sells his original work at conventions, he offers his customers two payment options.
"My favorite thing to do is ask people, 'Cash or future?'" the Massachusetts man says.
Choose the "future" option and Stevens whips out his iPhone. Stevens swipes the customer's credit or debit card through a small, plastic square plugged into the headphone jack. On his phone, the Square app processes the card—customers sign for the transaction using a finger on the device's multi-touch screen—and then the app deducts the price of the sale from the customer's account, crediting it to Stevens. It's a typical credit card transaction, only cooler.
"When I show 'em they can pay on my phone, they like it, but they really light up when it gets to the point of signing with a finger," Stevens says. "There's something about the process that causes people to actually enjoy themselves."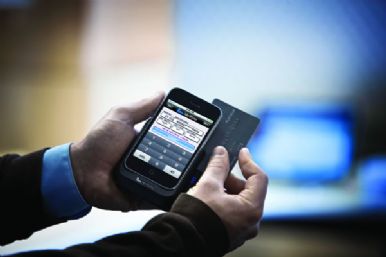 Stevens may be at the vanguard of e-commerce. A growing number of companies—including Square, Swipe It, Innerfence and Verifone—are using Apple's iPhone and the iPad as the foundation for inexpensive, low-commitment card-reading systems they hope will appeal to individuals and small businesses who might otherwise shun credit cards entirely.
"Our mission is to allow anyone to take payments everywhere," says Kay Luo, a spokeswoman for Square, which is emerging from a nearly year-long beta phase that included up to 50,000 merchants.
"We think there's quite a few small businesses that would like to take a credit card that couldn't before. Now they can do it," says Nelson Zhuang, product manager for the Swipe It application for iPhone and iPod touch.
Businesses give two main reasons for using iOS devices as card readers: Mobility and expense. Traditional card-reading machines are often pricey, have lengthy and sometimes onerous contract requirements, and are often tethered to land lines. "Cost is obviously a big factor—cost and convenience," says Derek Del Conte, CEO of Inner Fence, which makes the Credit Card Terminal system.
iOS credit card readers in action
Who's taking advantage of iOS credit card readers? Here's a sampling:
Small businesses San Francisco's Sightglass Coffee uses an iPad running the Square application as its cash register and card reader. Since it's not tethered down, an employee can even pick it up and walk over to customers selecting coffee beans to check them out right there.
"It was convenient for us, because we didn't have to set up a merchant account with the bank and pay annual fees," says Jerad Morrison, who co-owns the shop. "The whole credit card world is so inept and muddled. This is a transparent, clear process."
Mobile businesses Washington D.C.'s Red Hook Lobster Pound is a bit fancier—and a bit pricier—than most big-city food carts: The lobster roll meal costs $18. That made a card-reading system imperative. "We figured we needed to take a credit card or we'd miss out on sales," says Doug Povich, who runs the cart with his wife, Robyn. "That has been the case."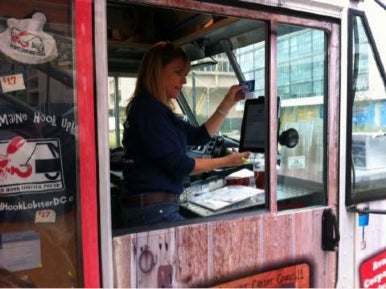 An iPad running the Square application, he says, is far cheaper than the $10,000 mobile system one credit card company pitched to him. The sleek Apple device, Povich says, also fits the image he wants for his business. "It goes well with the image we're trying to portray with our brand: Fresh, clean, urban, new, and young."
Vendors at remote events Lynn "Doc" Cleland goes on the road to demonstrate the Contour helmet-camera system at snowboarding, hang-gliding and motorcycle-centered events. Until recently, he didn't bother making sales—Cleland would refer potential customers to the company's Website. But that all changed when he discovered Macally's Swipe It application, which enables him to use his iPhone to charge and sell on the spot.
"We're out at the most remote locations that don't have retail outlets. We're in the dirt or the sand dunes or wherever, so it works well for our circumstances," Cleland says. "We don't sell a ton of product. But it's a convenience thing. If you have something there and you make a great impression on them, it's nice to make a sale on the spot." Cleland says so far he's always been able to get 3G service when he's needed it. He's never lost a sale because of a lost connection.
Doctors making house calls Dr. John Horning and his Urgent Med Housecalls team make visits to households around the San Francisco area—and take payments on the spot.
"I have sick patients who are too sick to get to the ATM. They freak out and ask if they can use a credit card, usually at the last second. I can," Horning says. He uses Square with his iPhone and occasionally his iPad.
Lower cost, higher mobility
So, what does this all cost? Some of the credit-card-processing companies, like Square, provide card-reading devices and the iOS apps for free to businesses. Credit Card Terminal, which requires merchants to key in card numbers, charges them $1 to download the app and a $25 monthly fee. All the companies charge merchants a fee per transaction, ranging from 15 to 25 cents, plus an additional varying percentage depending on the type of transaction. The transaction fees are "similar to what you'd be charged for a credit card," Square's Luo says, adding that merchants still make out better because the equipment costs are so much smaller.
Security hasn't emerged as a concern, at least not yet. All the companies promise strenuous encryption of card data, and Square offers to e-mail a receipt to customer accounts. "Now consumers will expect to get an e-mail once you do a transaction," Luo says. "Which is also nice, because then it becomes a paperless transaction. You don't have to handle receipts anymore."
Back in Massachusetts, artist Rich Stevens is helping Square promote its product by word-of-mouth. He takes the little plastic card readers and hands them out to artist friends who want to take payments using credit cards. His experience promises a bright future for the fledgling industry.
"Every cartoonist I bump into jumps the moment I offer them one," Stevens says. "It's like being Santa."
Joel Mathis is a freelance writer and political columnist for Scripps Howard News Service. He lives in Philadelphia.
32GB iPhone 4 (GSM, AT&T)
iPad (1st generation) Family