Like ReelDirector, iStoryboards from Oscar Stringer lets you create a simple video that shows how the scenes in a recorded video will play out. But that's about where the similarities end. Reel Director is a much more advanced app that's really useful for mobile moviemakers. iStoryboards lacks features and is plagued with bugs and performance issues.
Here's how iStoryboards works. Let's say you want to shoot a YouTube video with friends. Your movie might consist of a chat between friends, who are startled by some guy who jumps out from around a corner. With iStoryboards, you could script out a storyboard that shows a photo of what happens in each scene. You can then add dialogue and any actions that occur as captions to those photos.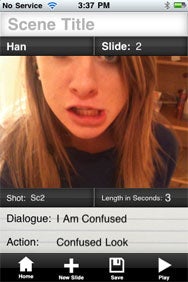 For each scene, you can pull in photos from the iPhone camera roll or snap photos directly and load them into iStoryboards. You can't set any transitions or pauses between scenes not can you change the font or text size. You also can't export your movie as a Quicktime file.
Once you add those shots, you can play the movie in iStoryboards to see how the scenes will play out when you make the real production. You can name the project and add it to your storyboard collection, which you can re-order on a main screen. And that's it—the app doesn't really provide any extra functions to help you plan a movie.
The $1 iStoryboards Lite adds a weird advertising scheme, in which banners appear above your storyboard with a small button. I thought the button closed the ad; instead, tapping it starts downloading the advertised app to your iPhone.
The $3 standard version of iStoryboards removes the advertising while adding an option to export your storyboard as a PDF file, which you can e-mail. However, in my testing on an iPhone 3GS, this feature crashed the app. As a workaround, you have to name the project before using the feature.
The much more polished ReelDirector provides the same storyboarding functionality. Compared to that well-regarded app, iStoryboards just isn't that useful. You can't render and save a movie, you can only play them. And there is an annoying delay before the movie starts. You can't set any actions on the screen, such as someone exiting a scene. The app is supposed to allow you to pinch and move photos on the storyboard, but this feature did not work right when I tested it.
Whether it's the $3 or $1 version, iStoryboards just doesn't provide any useful functions. There are better ways to make a storyboard—even if it's just with paper and pencil.
[John Brandon is a freelance technology writer based in Minnesota.]