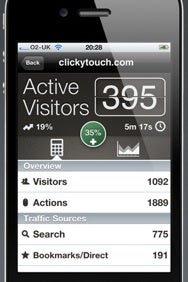 Tracking stats on the go can be important to Website managers. Fortunately, users of real-time stats-tracking system Clicky who have an iPhone can avail themselves of a new client for the service, ClickyTouch.
Brought to life by independent developer Stephen Reynolds, ClickyTouch presents the essentials of your Website traffic data (as provided by Clicky) in a beautiful, accessible interface that is more functional than Clicky's own basic iPhone-optimized mobile site. Key stats like current active visitors, bounce rate, average time per visit, and the day's visitors—compared to yesterday's as a percentage—are displayed in a large header, making it easy to see some of the most important details at a glance.
You can keep an eye on plenty of other details, too, including search terms, traffic sources, average time on site, social media lead, goals, and campaigns. ClickyTouch supports multiple sites, so you can tap through to each one and drill down into these details as they refresh automatically from your Clicky account.
As a Clicky fan and user, I was able to help beta test ClickyTouch, and I like how it turned out. In terms of design, Clicky is the Mac OS X to Google Analytics's Windows, and ClickyTouch maintains that attractive aesthetic and usability on the iPhone.
ClickyTouch is available now for $3 in the App Store and requires an iPhone or iPod touch running iOS 4.1 or later. Naturally, it also requires a Clicky account, which offers both paid plans with a ton of features and a free plan to help you get your feet wet.