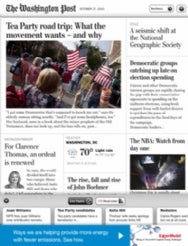 The Washington Post unveiled its iPad app on Monday, offering the software for free but saying it would begin charging for access beginning early next year.
The new offering appears to improve on the Post's iPhone app, a frustrating $2 offering that amounts to little more than a glorified RSS reader for the paper's headlines. In addition to a user interface designed to more closely resemble a newspaper, the iPad app offers video content and a Live Topics feature that combines headlines with social media conversations from Facebook and Twitter.
To view content users are required to have an existing account on the Post 's Website, or to register within the app. The Post's decision to give away its iPad app mirrors last month's action by The New York Times to offer its tablet content for free until early next year; the Post promises to begin charging on February 15, 2011.
The Washington Post for iPad is compatible with iPads running iOS 3.2 or later.