Your fancy audiophile earphones might give you crystal-clear sound and superb isolation, but can they control your iPhone? Shure, with its new SE210m+ Sound Isolating Headset, is one of the latest headphone manufacturers to implement controls for Apple devices on its headsets. The SE210m+ combines the professional-level audio performance and sound isolation of Shure's acclaimed SE210 Earphones, with an integrated remote and microphone for the iPhone, iPad, and iPod.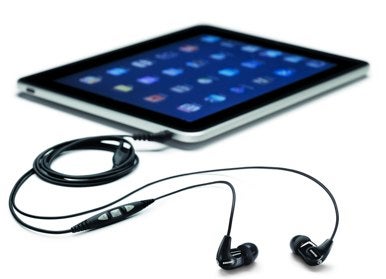 The SE210m+ features an ergonomic design and customizable ear sleeves that provide sound isolation and comfortable fit. It uses single high-definition MicroDrivers to deliver a full range of sound, and boasts a lightweight, low-profile shape with its nozzle angled to rest comfortably in your ear. To ensure an ideal fit for your ears, the SE210m+ comes with three sizes of foam and grey flex sleeves and a pair of triple flange sleeves. A hard, zippered carrying cases is also included to keep your earphones safe while on the go.
The SE210m+'s appeal for iPhone, iPod, and iPad users lies in its integrated remote and mic housed near the end of its cord. The remote lets you adjust volume, control music, and video playback, and record voice memos on your iPhone, iPad, or iPod. You can also use the remote to answer or end calls on the iPhone.
Though the SE210m+ will play sound from any Apple device, the remote and mic are supported only by the iPod nano (fourth- and fifth-generation), iPod classic (120GB, 160GB only), iPod touch (second- and third-generation), iPhone 3GS, iPhone 4 and iPad. The remote—but not the mic—is also supported by the third-generation iPod shuffle.
The SE210m+ begins shipping November 19 and sells for $170.
SE210m+ Sound Isolating Headset