[Editor's note: Macworld Senior Contributor Rob Griffiths was our representative at the MacTech conference in L.A. this week.]
Last week, I had the privilege of attending the first-ever MacTech Conference, held at the Universal Studios Sheraton in the greater Los Angeles area.
I was there to host a roundtable discussion about virtualization on the Mac (which was one of my focus areas while a Macworld employee). In addition, I wore my attendee hat and sat through many of the sessions, and attended some of the related activities, to get a sense for the overall event. So after spending three days there, just what did I think of the conference?
Before I answer that question, a brief tale from my life prior to Macworld, where I worked for an event management and production company. We launched a lot of events, typically trade shows… but we also ran the occasional conference, and I can say from experience that launching a new conference is one of the toughest things you can ever decide to do.
To be successful, you need to create a conference track that interests attendees, attract speakers that interest attendees, find a venue that meets the needs of both the conference and its attendees and speakers, figure out how to feed and house your attendees and speakers, publicize your event, and worry about the technology required to run a multi-track conference over a period of days. In short, there are a lots of ways to mess up, and a successful launch is far from guaranteed. (Go ahead, ask me about the time we launched a conference/trade show only to have a mere handful of people show up…that was a painful experience!)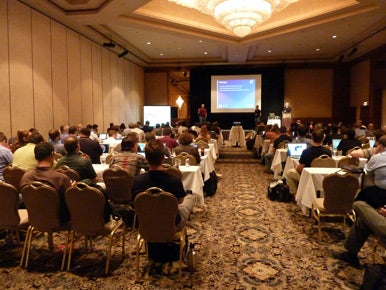 So how well did Neil Ticktin and Ed Marczak of MacTech negotiate this minefield of difficulties? Speaking as an attendee and presenter, I'd have to say they did an amazing job. The conference had two tracks (IT and Developer), along with a handful of joint sessions that covered both tracks, spanning three calendar days.
I don't have any figures on the actual attendance, but based on a quick headcount estimate during the sessions, I'd say there were 250 to 350 people, which is quite impressive for a first-year conference (as it wasn't inexpensive to attend). The IT track was more heavily attended than the Developer track, as might be expected. (Typically, IT personnel work for larger companies that have budget dollars for training; many developers work for themselves or very small companies, where a training budget isn't a reality.) The attendees seemed interested in what was being presented, and the questions asked were quite good and showed that people had been listening.
The first day featured a keynote talk by Andy Ihnatko, covering all things Mac, as well as a demonstration of some Mac-powered planetary rovers controlled by an iPod touch. Unfortunately, some personal commitments here in Portland meant that I didn't arrive until after these events were done. In speaking with some attendees at the first evening's dinner, however, I got the sense that both events were very well received.
I sat through a few of the afternoon sessions on the first day, even though most of the Developer track was way over my head. ("Rethinking Object Graph Persistence," for instance, is not something I've ever thought about, much less rethought about!) The IT track was more my speed, and there were some good tips given in a talk on supporting your users using remote access technologies.
After a delicious outdoor dinner the first evening (salmon under the stars), everyone boarded a few charter buses for a short trip up to the Griffith Observatory, an incredible observatory on top of the hills overlooking Los Angeles. MacTech attendees were treated to a planetarium show, followed by a behind-the-scenes presentation from the small team that created the show (using a mix of Macs, and PCs when required). After that, we were free to explore the observatory until closing. Never having been there before, I found the experience incredible—if you're ever in the L.A. area, it's well worth the drive time to check it out some evening.
Day two was focused on sessions, including my favorite of the event: Mike Lee (ex of Delicious Monster and Apple, where he worked on the Apple Store app) gave a talk titled "Making Apps That Don't Suck." Despite this talk's existence in the Developer track, I would highly recommend listening to Mike's talk if you have a job that involves any client/customer interaction at all—at no time did he even mention writing code, and the topics he covers apply to nearly anyone who touches a customer. His talk was peppered with a variety of typically-humorous examples that he used to convey his thoughts on how to write apps that don't suck, and to make your customers happy in the process.
On the IT track, there was an interesting session on configuration management and software inventory at Los Alamos National Labs, which has somewhere between 3,000 and 5,000 Macs…no more complaining from me about Software Update and my five-Mac household!
Dinner on day two was in the Starview Room, located on the 21st floor of the Sheraton Universal hotel. Great food, great views, great company. After dinner, many folks traipsed over to Jillian's at Universal Studios for a MacTech party and fundraising bowling event. Yours truly, though, had a day job to catch up on, and some work to do before his roundtable, so I returned to my room. The feedback from many attendees at breakfast the next day was that the party was quite the blast.
Day three brought a half-day of joint sessions, including the virtualization roundtable, which went quite well. It's a testament to the quality of both the attendees and the panelists (Pat Lee from VMware and Nick Dobrovolskiy from Parallels) that we could spend an hour onstage, and not once have the two competitors snipe at each other, nor get a standard "tech support" question from the audience. Instead, we got thoughtful questions, and well-reasoned answers from both Pat and Nick. (The one big takeaway from both VMware and Parallels: they'd love to virtualize Mac OS X Client, too, if only Apple would change the license to allow it.)
One more panel (on the rovers and computer vision; very interesting), and it was time to wrap up the first-ever MacTech Conference. Neil and Ed took the stage and thanked everyone for attending, and in turn, they were greeted with a standing ovation from the attendees—needless to say, people were quite thrilled with how this first event turned out.
The saying is that a successful conference will stimulate your mind with its sessions, satisfy your hunger with its food offerings, and take care of entertaining you during non-session time. On all three fronts, I'd have to say this first MacTech Conference was a hit. The sessions were generally interesting (and most of the speakers were quite good), the food was delicious and plentiful (breakfast, lunch, dinner, and snacks during the day), and the evening events were well planned and executed.
While no official announcement has been made about the second MacTech Conference, it would not surprise me in the least to see such a thing in the near future…and if there is a second conference, I'm going to try my best to be there next year, too—I had a great time, learned a lot, and met some great people this year, and would expect nothing less next year.