Adobe has updated its free sketchbook app, Adobe Ideas, adding the ability to create photo layers, a Redo function, iOS 4 multitasking support, and more.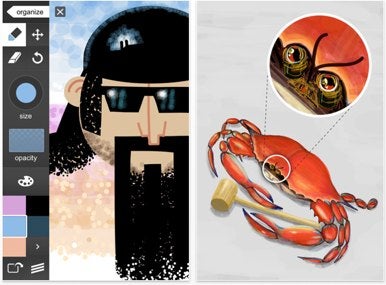 Adobe Ideas, a combo app for both the iPad and the iPhone, is meant to be used as a digital sketchbook, letting you capture and explore your ideas while on the go. It features simple vector-based drawing tools, variable-size brushes, a vector eraser, and a large virtual canvas on which you can sketch your ideas. It uses an intuitive user interface with size, opacity and color settings available on a main toolbar, and features a gallery-style organizer that lets you quickly scroll through your ideas and color themes.
The most significant addition to Ideas 1.1 is Layers, a $5 in-app purchase that lets you use up to ten drawing layers, plus a photo layer, for each of your sketches. The Adobe Ideas blog notes that this feature is still under review by Apple, so you might not be able to buy it just yet. If you choose not to purchase Layers, you can still use all of Ideas's other features, which include one draw layer and one photo layer per sketch.
On the performance end, Ideas 1.1 now saves your sketches a lot faster—which should help avoid data loss when you close the app or need to answer a phone call. A "Redo" function has also been added along with support for the iPhone 4 Retina display and iOS 4 multitasking.
Adobe Ideas 1.1 runs on iOS 3.1 or later.