Aqua Pearls by G5 Entertainment brings yet another "match-three" marble shooter to the iOS. Though the game resembles Luxor or Tumblebugs, Aqua Pearls unfortunately adds very little variety to differentiate itself from the others.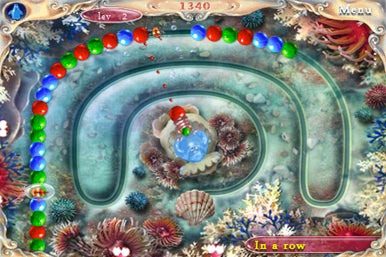 Aqua Pearls in set in detailed underwater environments in which you must stop the advance of multicolored pearls by shooting pearls of your own. Swipe your finger to aim the cannon and match three or more to make them disappear and slow the advance. If the line of pearls reaches the end marked by a seashell, the game is over. There are four difference game modes: Puzzle, Adventure, Strategy, and Endless. The mechanic is basically the same in each mode, but there are a few twists which keep things interesting. For example, in Strategy mode, you must free fish trapped in bubbles by timing your shots to create matched sets right below the fish. In Puzzle mode, you're shots are numbered, and to get more shots you have to release stars from bubbles in the pearl chain. If the pearls hits the seashell or you run out of shots, the game ends.
This game is very easy to learn, but faster levels and an increasing number of colors combine to make things quite challenging. With 40 levels and the four different game modes, there is plenty to master here. Unfortunately, there is no social networking included and no global scoreboards. This app isn't universal so while nicely detailed on iPhone or iPod touch, the graphics lose their punch scaled on an iPad.
If you've played through similar games, you can probably skip this one unless you just can't get enough of the marble shooter. If you're new to the genre, this is a satisfactory entry with just enough variety to keep you entertained, if not enthralled.
Aqua Pearls is compatible with any iPhone, iPod touch, or iPad running iOS 3.0 or later.
[James Savage is the host of the RetroMacCast a weekly podcast devoted to older Macintosh computers.]