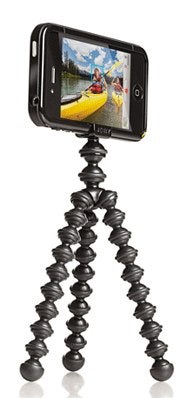 iPhone 4 users looking for the ideal portable tripod are in for a treat with the release of Joby's Gorillamobile flexible tripod and bumper case for iPhone 4.
The Gorillamobile is a much-loved portable, flexible tripod whose legs are made of a series of interlocking round joints. This allows you to use it like a traditional tripod, but also bend, twist, and wrap it around other objects for extra versatility.
Made of polycarbonate and high ABS plastic with TPE grip rings, the $40 Gorillamobile for iPhone 4 includes a protective bumper case that works as a rail system for the stand's connector clip, as well as a universal camera adapter clip so you can use the stand with a traditional camera. You can position your iPhone horizontally or vertically on the tripod mount.
Joby also offers a free Gorillacam iPhone app that compliments the Gorillamobile by providing necessary features for using a mounted camera—like a self-timer and time-lapse ability.
Gorillamobile for iPhone 4