Like most iPhone and iPod touch owners with even a sliver of social tendencies, you probably have a morning routine. Maybe you open Mail to trudge through work and personal e-mail, then check your mentions and direct messages in your favorite Twitter app, then respond to wall posts and status updates in Facebook. Twezr wants to help improve your routine.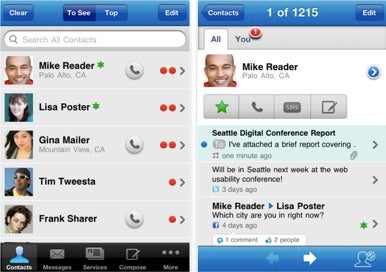 Twezr is basically a smart, social, unified inbox that lets you read and respond to messages from both e-mail and social media services in one place. It supports e-mail accounts like Gmail, Yahoo, and Hotmail, as well as multiple Twitter and Facebook accounts.
But Twezr goes one step farther and prioritizes your contacts based on how often you interact with them, kind of like Gmail's new Priority Inbox feature, but for Twitter and Facebook, not just e-mail. It matches contacts from your device's address book against their Twitter and Facebook accounts to create unified contacts, allowing you to choose which services you use to respond. This way you can get to the messages and content that matter most to you while still keeping up with everything else.
You can also run full-text searches across e-mail, Twitter, and Facebook, which could make Twezr a sort of personalized Google of your social activities, curated by you and the company you keep.
Twezr is available now for free in the App Store, requiring an iPhone or iPod touch running iOS 3.0 or later.