As someone who writes about a lot of software, I take a lot of screenshots. And while I usually end up using OS X's built-in screen capture tools, sometimes you need a bit more juice. One new option is Techsmith's Snagit, which—after years on the Windows side of the fence—has finally jumped to the Mac.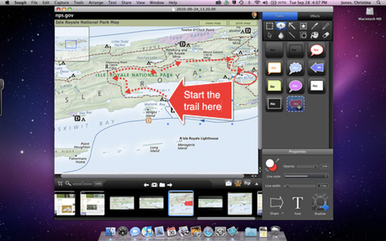 Originally released late last year as a public beta, Snagit has now hit its first official, full release. This full-featured screenshot utility brings with it the ability to not only capture screens—by window, by region, or even with a delay—but also an assortment of editing, organizing, and sharing features.
Once you've snagged your shot, a variety of tools allow you to quickly customize your screenshots with arrows, speech bubbles, stamps, lines, and more. If that's not enough to satisfy your tweaking needs, you can add effects like a shadow, a border, or some perspective—you can even combine multiple images into one file. For heavy-duty screen capturers, Snagit keeps a tray of your most recent screenshots and automatically saves images, just in case you forget to.
When you've finished assembling your screen capture, Snagit lets you quickly and easily share it with others, whether by dragging and dropping the picture into another app or sending it to the company's Screencast.com site. You can also use the application's built-in functionality to send an image via your Mail or Entourage account, upload it to an FTP server, or just copy it to your clipboard until you decide what fate best befits it.
Snagit requires an Intel Mac running Mac OS X 10.5.8 or later. A full license costs $50, but Techsmith also offers a 30-day free trial.