Much has happened in the exhilarating world of iPad cases since our last round up, eons ago. Namely, a lot of new cases have it the market. I also noticed, while compiling this epic list, that nearly every folio-style case on the market these days seems to double as a viewing stand—a pleasant development for those who prefer to use their iPad with a Bluetooth keyboard. Without further ado, here's a rundown on the myriad cases that have emerged over the past few months in iPad-land.
Booq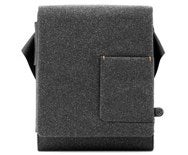 Booq's stylish Boa Push ($90) messenger bag provides room for your iPad, iPhone, credit cards, and a notepad and pens. Crafted from durable Twylon and Nappa leather and equipped with a wide, seatbelt-nylon shoulder strap and sturdy snap-button flap closure, the Boa should make for a comfortable and convenient way to travel with your iPad.
The Boa Folio ($50) offers full body protection for your iPad, and—as with pretty much every folio-style case in this round up—doubles as a viewing stand with two levels of incline.
BPP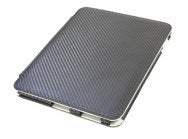 BPP is offering some fine introductory deals for its new iPad cases. The Carbon Jacket with magna-cover ($10 introductory price, $30 MSRP) is a folding, synthetic-leather case that boasts a slick, carbon-weave pattern and doubles as a prop-up stand. Two corner magnets in the cover keep the Carbon Jacket tightly closed, and a soft, suede-felt liner keeps your iPad cozy and scratch-free.
The Breathe Sleeve ($30) is a protective neoprene sleeve featuring a ventilated design that releases heat and keeps your iPad cooler—which can potentially reduce battery degradation.
The Protect-it Case ($10 introductory price, $30 MSRP) is a simple, snap-on case with thermo-plastic-elastomer edging for extra shock-absorbing protection. To ensure your iPad is not mistaken for a lesser tablet, the case features a see-through, smoke-plastic backside with a cutout for the Apple logo.
CaseCrown
CaseCrown's iPad Vertical Mobile Messenger Bag ($30) handily stores and protects your iPad while providing numerous pockets to accommodate your other must-haves. The iPad compartment is padded to protect your shiny device from bumps and scuffles, and a Velcro closure keeps your tablet securely in place.
ColorWare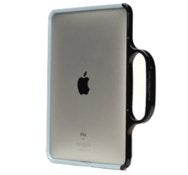 For those willing to pay top dollar for a quality, eye-catching case, ColorWare's Grip for iPad ($300) should do the trick. The Grip is a protective frame made of aircraft-grade aluminum with a carrying handle that juts out from its side. ColorWare's design studio lets you customize the colors of the Grip's hand and frame, and the company offers different versions of the case that will fit your ColorWare-customized iPad.
Cygnett
Cygnett's Aerosphere iPad sleeve ($25) wraps your iPad in a layer of protective air bubbles, cushioning it from impact and giving the case a neat, bubble-wrap-looking appearance. Inside the case, a soft layer of plush faux-fur protects your device from scratches.
Dodocase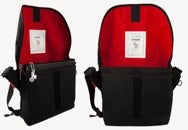 Dodocase's Dodobag ($80) is a slick, nylon messenger bag designed specifically to fit the company's protective Dodocase for iPad ($60). A padded pocket holds your Dodocase securely while leaving ample room in the bag's interior for your journal, charger, phone, and miscellaneous items. A Velcro closure keeps things in place, and the Dodobag's durable Cordura-nylon construction means you should get a good amount of mileage out of this bad boy.
Duluth Pack
From snowy Minnesota comes Duluth Pack's Haversack ($100), a rugged, canvas travel bag that combines equal parts quality, convenience, and style. The Haversack features a premium-leather flap strap with buckle closure and an internal, zippered pocket for your iPad. Extra pockets along the side help you stay organized, while leather trim and a leather strap with brass roller buckle ensure that your iPad will be be traveling in style.
Fabrix Cases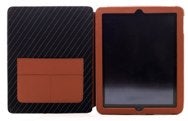 Fabrix Cases has released some classy new booklet cases for the fashion-friendly. The Faux Black, Gray Matter, and Classic Tan (each $60) are hand crafted and feature thin, magnetic closures and a reinforced-steel plate to prevent warping of the inner frame. The cases have cutout holes for all ports and controls, and an inner pocket for business cards and notes.
Gadget Freeway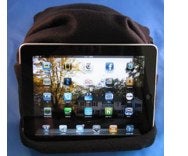 Most iPad stands work admirably on flat surfaces, but what if you want to stand your iPad up on your bed or on your lap? In these situations, Gadget Freeway's iPad Pillow ($29) is probably your best bet. The iPad Pillow, which is essentially a pillow with a built-in iPad stand, holds your iPad both vertically and horizontally on uneven surfaces that standard stands can't handle. Plop it on your lap while traveling by plane, or lay it next to your pillow in bed for hands-free bedtime browsing. When it's time to move, you can store your iPad in the iPad Pillow's secure zippered pocket. You can also add a strap for easy traveling.
If carrying your iPad around in a pillow doesn't sound appealing, you can keep it simple with the iPad Shoulder Bag ($69), a shoulder bag that lets you access your iPad's touch display and headphone jack while it's still in the bag.
Grantwood Technology
Grandwood Technology's new Car Kit for iPad ($35) includes an FM transmitter and car charger, a SimpleCase folding case for your iPad, and short and long car-seat-attachment straps for securing your iPad to your car's headrest or between two headrests, respectively. The attachment straps can double as carrying straps, and the FM transmitter and car charger accessory is compatible with most iPhone and iPod models, as well.
Griffin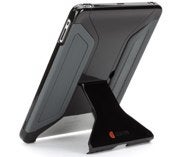 Griffin's got a ton of new iPad cases and accessories on the market. The AirStrap case ($50) features a safety strap on its back that lets you easily hold your iPad with one hand. The case's structured frame protects the edges, controls, and connectors of your iPad, while the case's contoured edges provide extra grip.
The Reveal ($50) protects the back of your iPad with a clear plate of durable polycarbonate, while a thin foot on its back gives your iPad extra stability on a tabletop. The case provides extra protection via a one-piece, wraparound rubber cushion that hugs the edges of your iPad. The Elan Form Graphite hardshell case ($50) features a minimal and discreet design, protecting your iPad with a woven-look synthetic outer layer that's bonded to an impact-resistant polycarbonate inner shell. The Outfit ($35) is a hardshell polycarbonate case featuring a super-slim, snap-on design and a matte finish.
The Standle ($50), so named because it features both a built-in stand and a carrying handle, is a veritable jack of all trades. Along with providing hardshell protection, the case features a large flip-out stand that props up your iPad in portrait orientation, and a two-position landscape stand that doubles as a handle to carry your iPad. The Cabinet Mount for iPad ($70) is an adjustable, fold-away swivel mount that lets you mount your iPad on any cabinet 14 inches deep or deeper. The Cabinet Mount's arm swivels 360 degrees and pivots 90 degrees front to back, making it easy to position your iPad at an ideal viewing angle no matter where you are in the room.
The Elan Folio for iPad ($50) is a professional-looking folio that flips open for quick access to your iPad's display, closing like a book for privacy and protection. The cover can also be flipped around and locked into place, turning the Elan Folio into an iPad stand that supports both landscape and portrait orientations. The WaveStand ($20) is a pint-sized iPad stand that supports your device in portrait or landscape mode, upright or inclined, while taking up hardly any of your desk space.
Finally, the Elan Passport Graphite ($50) is an iPad folio similar to the Elan Folio, but with an inner cover that includes pockets for ID and important papers, making the case a handy traveling companion.
Happy Owl Studio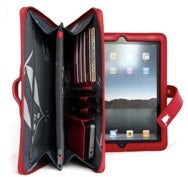 Happy Owl Studio, a small company founded by Apple fans and fashionistas, has three stylish iPad cases set to be released in the near future. The Clutch ($80) is a chic, folding purse for your iPad that features organizational pockets for cash and change, credit cards, business cards, lipgloss, and more. When closed, it offers complete protection for your iPad, and when opened, it doubles as a viewing stand.
The Wallet ($80) is a man-friendly version of the Clutch. It features the same fold-out design with pockets for credit cards, business cards, a stylus, and a mobile phone, and boasts a professional, brown-leather exterior. For those not needing all those pockets, The Wallet Lite provides the same classy styling of the Wallet, but in a slim, minimalist design.
Hard Candy Cases
Hard Candy's Candy Convertible ($45) case combines the protection and practicality of a flip folio with the fashionable looks of faux nubuck leather. The flip cover protects your iPad when the folio is closed, and doubles as a stand with two selectable viewing angles.
iLuv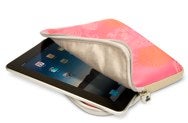 iLuv's Neoprene Sleeve for iPad ($25) is made of water-resistant, padded neoprene to protect your iPad from bumps and bruises. It includes exterior pockets for storing your extra belongings, and comes in a variety of colors.
Incipio
Incipio's Hive ($40) is a silicone case that uses anti-static coating technology and high-density silicone rubber to keep your iPad protected and static-free.
Innopocket
InnoPocket's Transformer ($35) is a sleek, polycarbonate case with transparent lid that protects your iPad's face and swivels back for use as a stand.
Marware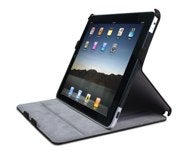 Marware's CEO Hybrid ($50) is a hybrid of a hardshell and a padded folio case. It features a low-profile, soft exterior and an injection-molded structure that provides rigid support. The cover can be folded back for use as a multiple-angle stand, and an elastic hand strap on the back of the case allows for easy single-handed carrying.
Moleskine
Moleskine—a company that's made its mark mostly by selling quality paper notebooks—is releasing the Folio Digital Tablet Cover ($57), a "hybrid tool" that's half iPad case and half paper notebook. A suede lining protects your device from impact and scratches, while a Volant notebook with plain pages gives you room to hash out your thoughts like our ancient ancestors once did. The case is available for pre-order and will ship in late November.
Mophie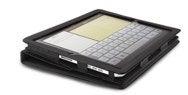 Mophie's Workbook ($60) is a form-fitting, protective folio that that offers complete front-to-back protection and can prop your iPad up in an infinite number of viewing angles. It allows full access to all your iPad's ports and controls and boasts a durable, easy-to-clean faux leather exterior.
PDair
PDair's Aluminum Metal Case for the iPad ($79) is thin, folding case fashioned out of anodized, aircraft-grade aluminum. A neoprene inner lining provides extra protection and shock absorption, while strategically placed cutouts give easy access to all the iPad's controls and ports. As with most folding cases these days, the PDair's cover can be folded back and used as a stand for your iPad.
Scosche
Scosche's IPDL is a no-nonsense leather-textured folio that protects both sides of your iPad and folds into a stand that supports multiple viewing angles.
Sumo
Sumo's Sumo Sleeve ($20) is made of soft, water-resistant neoprene that protects and cushions your iPad from the rigors of daily life. With a simple, overlapping flap design and small size, the Sumo Sleeve makes for a convenient solution for the mobile iPad-user.
SwitchEasy
SwitchEasy has five edgy new cases that are sure to turn some heads. The Trig ($40) is a dual-function protective sleeve and viewing stand that boasts reinforced padded panels for extra protection and soft interior lining to easily slide your iPad in and out. The Cara ($50) is a tough, polycarbonate folio that provides full protection for your iPad and boasts a high-gloss finish for extra grip and shine.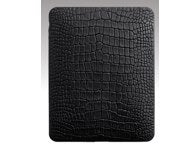 The Reptile ($40) is a polycarbonate case covered in a distinctive Crocodile-skin texture that offers improved grip along with making an interesting fashion statement. The RibCage ($35) is a faux-leather sleeve that, as the name would imply, features a 3-D ribcage design that provides extra shock absorption along with a stunning aesthetic. For the more modest customer, the Nude ($30) is a minimalist, 1mm-thin polycarbonate case that offers SwitchEasy craftsmanship without the loud design.
Timbuk2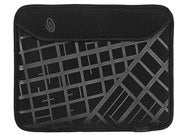 Timbuk2 has three new iPad sleeves. The Envelope Sleeve ($30) is a slim, padded sleeve that protects your iPad with high-density foam and a scratch-resistant Tricot liner. The stretchy, neoprene Scuba Sleeve ($35) features a fuzzy, faux-fur interior and sports a stylized map of San Francisco on its exterior. The Plush Sleeve ($40) uses high-density memory foam for extra shock protection.
Treegloo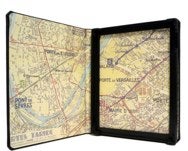 Treegloo builds eye-catching, customizable folding cases that are easy on the environment. Treegloo offers a number of customizable options for your case, including five different finishes, two cover colors, 19 liner colors, and three liner prints that you can mix and match to create your ideal case. The case's frame is made from pine milled and grown in the USA, which, according to Treegloo, requires less energy to produce, has less eological impact, and reduces overall waste compared to other materials. Prices vary with your choice of finish and liner print, but should run between $35 and $65.
US+U
The Swivel Pro ($60) by US+U is billed as the world's first fully rotating iPad case you can hold in one hand. The imitation-leather case features a 360-degree rotating handle that lets you hold the iPad with one hand and rotate it to your ideal viewing angle. It also features a kickstand to angle your iPad for typing with an external keyboard, and even includes a pen holder and a pocket for notes.
Watershed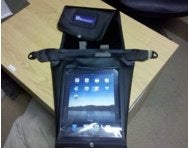 Imagine being able to use your iPad while underwater. Watershed's Waterproof iPad Bag ($97) lets you do just that. The submersible bag seals your iPad in a waterproof enclosure, displaying the device's touch screen through transparent plastic. A button-snap flap conceals the display when not in use, and the bag comes with a shoulder strap, as well.
XtremeMac
XtremeMac's Nylon Sleeve ($50) is—you guessed it—a protective nylon sleeve for the iPad. The sleeve features a clean design with a top-zippered enclosure and soft, reinforced lining to keep your iPad free of scratches. The Play-Through Sleeve ($35) is a full-coverage neoprene case with built-in screen protection. Its lightweight design makes it useful for the active iPad user wanting to protect their iPad's display as well as its body.