The iPad has no shortage of text apps for jotting down notes or working on documents, from Documents To Go, to Elements, to Simplenote. But a different kind of text editor, called Textastic, is aimed squarely at developers and Web designers, offering features rarely found in iPad apps.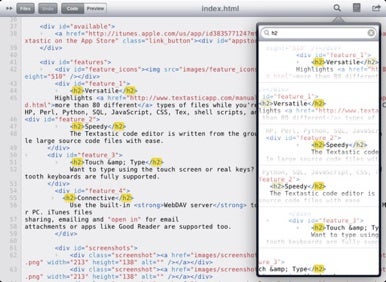 Textastic recognizes more than 80 languages that know no cultural or geographical bounds—including HTML, Objective-C, PHP, JavaScript, Python, and more—and supports syntax highlighting, so you can quickly zero in on the right code. Developer Alexander Blach claims that Textastic can handle large source code files without breaking a sweat.
Also supported are Apple's official keyboard dock; your favorite Bluetooth keyboard; the WebDAV protocol, for exchanging files between other computers; TextExpander; and iOS 3.2's Document Sharing features, for opening files in other apps, such as Good Reader.
Textastic is available now for $5 in the App Store, and you'll need an iPad running iOS 3.2 or later.