Google will start rolling out on Tuesday a feature that lets people call up large snapshots of the Web pages that search results link to.
It's the latest attempt by Google to add more elements to its search results page in the hopes that people will be able to make better choices faster about which sites to visit.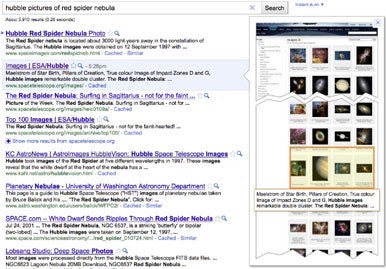 While Google has regularly improved in a variety of ways the text "snippets" that accompany search result links, this new feature, called Instant Previews, adds help of a visual, graphical nature.
People who use Instant Previews are about 5 percent more likely to be satisfied with the search results they click upon, Google found in internal results, said Johanna Wright, a Google Web search product management director.
However, it will be interesting to see what effect it has on click-throughs for search ads and how advertisers respond to the feature. The snapshots cover up text ads in the right-hand side of the results page.
Wright dismissed concerns that the snapshots will affect ad visibility and effectiveness. "The impact on ads will be minimal because people focus on one result at a time when they scan the search results page," she said.
In addition, Google will launch a similar feature in the coming months for its search ads, she said.
Also worth watching will be the reaction of those Web publishers who complain that Google already provides too much content about and from their sites in search results, potentially costing them visitors while failing to compensate them for the ad revenue it generates.
Although attaching a large Web page snapshot to every search result on Google.com is computationally intensive on the back end, the feature will not reduce Google's speed at processing queries and serving up results, Wright said.
"We take speed extremely seriously. This is the type of thing we test and perfect to death," Wright said.
The feature will be rolled out globally starting Tuesday, and its availability will be indicated with a small magnifying glass icon placed next to each result.
Clicking on one icon calls up that result's snapshot and also turns on the feature for all other results in the set, whose snapshots then pop up when the cursor hovers over them.
Snapshots will be refreshed with the same frequency with which Google crawls the content of their page, which varies from page to page.
The snapshots are static images; users can't click on links within them, nor can they zoom into them. However, Google does highlight the search query terms and other relevant content in the snapshot.
Instant Previews will be available on the Google.com general Web search engine in more than 40 languages. It will not be available in Google specialty vertical engines like News, Books, Images and Video.
Recent Google search improvements include Instant, a new feature that predicts queries as people type and refreshes results and ads on the fly, and Place, a revamping of the way local results are presented and organized.
The concept behind Instant Previews isn't new. Ask.com launched a similar feature years ago, although it doesn't offer it anymore. Yippy.com also places hourglass icons in its search results, and clicking on them opens up a pane below the link with a live version of the page on which people can click and scroll through.
Hovering over an arrow on the edge of a Microsoft Bing result displays more information about that page, along with a list of its popular links and a box to search within that site. However, Bing doesn't offer a visual snapshot of the page.