Look out, Mac pro-audio apps; there's a new contestant in town—and it's powered by none other than Adobe. The company has released a public beta of Audition for Mac, its professional-level audio program for recording, mixing, editing, and mastering.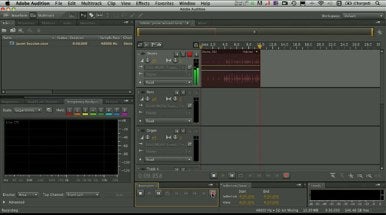 Audition for Mac, which was announced in June, provides an audio-editing environment for fine-tuning single files or creating multi-track mixes. It also features audio restoration tools, multi-channel support for 5.1 surround sound, and various audio effects including a de-hummer, de-esser, and volume leveler.
Unlike many digital audio workstations (DAWs)—like Logic—that emphasize audio recording, Audition is aimed at the broadcast and audio post-production market, which should help set it apart from the competition.
You can download the free beta—which requires OS X 10.5.7 or later, at least 1 GB of RAM, and a Core Audio-compatible sound card—from Adobe's Website and also view videos of Audition for Mac in action.
Pricing has yet to be announced, but with the PC version currently selling for $399, the Mac version will likely be priced similarly.