Developers FDG Entertainment have taken their much beloved action RPG, Across Age, and re-released it for Retina-Display-enabled fourth generation iPhones and iPod Touches as Across Age DX. This "deluxe" version features a revamped combat system, a sprinkling of new content, and of course support for the Retina Display. The game is an old school top-down action RPG in which you play as two characters: a royal knight named Ales, and a powerful young mage named Ceska. Ales has been tasked with escorting Ceska on a quest to unlock her true power, and good old fashioned dungeon-crawling and leveling up ensues.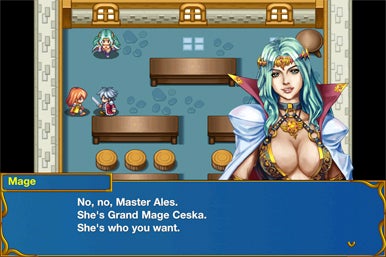 Across Age is a pretty standard action RPG, with all the cheesy dialogue, item collection, swords and sorcery that you'd expect from a SNES era role-playing game. Basic navigation of dungeons and towns feels a lot like the old top-down Legend of Zelda games, especially if you're controlling Ales, who attacks with his sword in a manner quite similar to the hero of Hyrule. Also reminiscent of Zelda are the boss battles, which require a sound strategy rather than brute force if players hope to come out on top. Combat and movement itself is surprisingly easy thanks to large, easy to reach on-screen buttons that most players should adapt to within minutes.
When you're not dashing around forests and "caves of trials" while hacking and slashing away at enemies, Across Age will challenge you with a number of puzzles. These puzzles tend to be built around your ability to split up as the mage, named Ceska, and Ales the knight. Ceska plays quite a bit differently than Ales thanks to her ability to use ranged attacks. Ales can also throw Ceska to higher ground, and you can switch between controlling the two at any time, so while Ales pushes around blocks or fights monsters you can use Ceska to go hit a switch to open up a path.
I've played Across Age in its original, non-Retina Display form, and it's undeniable that this update's support for the higher-resolution screen really makes a difference. The hand-drawn art is gorgeous, and the game itself looks like something out of an alternate dimension in which the Super Nintendo ran in HD. It's worth mentioning, however, that this game actually DOES NOT run on non-Retina Display devices. That means if you bought the original version of Across Age and now want to see the new graphics and content, you'll have to pay for it all over again. Even worse, if you do buy the game without owning a fourth generation device, you're just out of luck.
Across Age DX is an excellent RPG, and quite possibly the best the iPhone has to offer. That being said, it's unfortunate that those who have already paid for the game once will have to shell out again for what probably should have been a free update to the original release.
[Ryan Rigney is a frequent contributor to Macworld.]