On Tuesday, network attached storage (NAS) unit maker Synology America released its new DS111 and DS211 Diskstation server models.
Aimed at offices, the DS111 and DS211 models look to provide more than just storage. Besides their storage capabilities, both devices can act as printer, DLNA/UPnP media, and iTunes servers. Each can also be used as Web, audio, download and surveillance stations. Though there is a large difference in storage capacity between the two models—the DS111 holds 2TB of data while the DS211 holds 4TB—both are capable of hosting up to 30 Websites.
The new servers come pre-loaded with Synology's Diskstation Manager (DSM) 3.0 operating system. The DSM 3.0 includes several multimedia storage-sorting applications, and it offers a customizable user interface. The preinstalled Synology Data Replicator software can sync with Windows- and Linux-based computers to backup data. DSM 3.0 also syncs with the Time Machine software on Mac computers.
The single-bay DS111 measures 160-by-63-by-218m millimeters, while the two-bay DS211 checks in at 161-by-88-by-218 millimeters. Both devices come with 2MB of memory and 1.6GHz CPU processing power.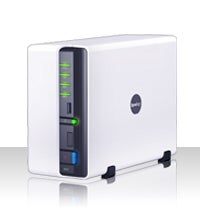 According to Synology, the DS111 consumes about 18.7 watts of electricity while in use; the DS211 uses 22 watts. Both devices have hard drives that hibernate when not in use, a feature aimed at cutting the servers' energy consummation by a little more than half.
The DS111 will cost $220 while the DS211 sells for $320. Preinstalled versions of the devices will be available starting next week.