Let's face it: traditional instruments are clunky, often heavy, and need to be kept in tune. But Smule's new Magic Fiddle for iPad weighs nothing, stays in key, and will both teach and challenge your inner fiddler.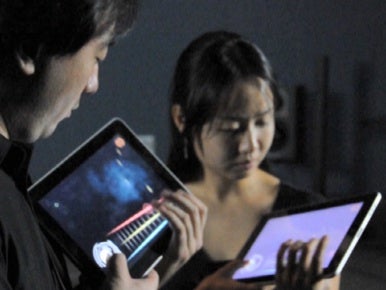 Magic Fiddle is equal parts iPad instrument and "musician 101," with gaming and social networking accompaniments to liven things up. You can see Smule's demo featuring the St. Lawrence String Quartet embedded below. At its core, Magic Fiddle is a digital violin for the iPad, but as with Magic Piano, Smule added an eight-chapter "interactive journey" to teach you some of the fundaments of fiddling, including posture, bowing, and vibrato. There's also a Songbook where you can download songs to practice and play along with.
Beyond the basics, Magic Fiddle lets you share your best performances and compete to increase your score and earn virtual trophies. You can spin a globe to find and listen to performances from other Magic Fiddle users, then broadcast your own.
Magic Fiddle is available now for $3 in the App Store. It requires an iPad running iOS 3.2 or later.
Read more…