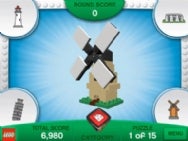 Lego on Tuesday launched its first iPad app, a digital version of its Creationary board game.
The game, which is also compatible with the iPhone and iPod touch, combines Pictionary-style guessing with Lego model-building action. Users can roll a die to determine which of four categories are being played: nature, vehicles, buildings, or things. (Two additional categories, random and double-score random, are also possibilities.)
After that determination, the game builds an object out of virtual Lego bricks; users must guess which of four possible answers matches the object being built. Quicker correct guesses earn more points; guess wrong, or after time has expired, and the game ends.
Users can share their scores via e-mail or Facebook. While the board version of Creationary allows play for three to eight players, the iPad is strictly single-player.
This is Lego's first foray into iPad programming, but the company has been active on the digital front, creating the Lego Photo app for iPhone, along with the popular series of Lego Star Wars games and other offerings.
Lego Creationary is free, and compatible with any device running iOS 3.1 or later.