At a Glance
Expert's Rating
We at Macworld are big fans of in-ear canal headphones (also known as canalphones), which can offer impressive sound quality and block a significant amount of outside noise. But how well the included "universal-fit" eartips fit can affect sound quality, noise isolation, and comfort, and that fit varies from person to person—and even from ear to ear. For example, my left ear is fussier than my right when it comes to getting a good acoustic seal.
The best, but most expensive, alternative is a set of canalphones with the entire earpieces—electronics and all—specifically tailored for your particular ears. Based on ear impressions taken by an audiologist, these custom-fit models have been available for years and are commonly used as stage monitors for live music. Unfortunately, their prices, which start at around $400 and top out in the four-digit range, put them in the realm of professional musicians and audiophiles.
A more affordable option is a set of custom eartips—eartips made specifically for your ears and designed to replace the universal-fit tips included with consumer canalphones. However, at around $150 plus audiologist fees, custom eartips still end up costing over $200.
Canalphone vendor Etymotic Research recently shook up this market a bit by teaming with ACS, a British company that specializes in custom-made ear products, to introduced the Custom-Fit program. This program allows buyers of Etymotic's canalphones to get a set of custom eartips for the impressively low price of $100 (plus tax and shipping). And that price includes the audiologist fees.
I had the opportunity to try out the Custom-Fit service, and the resulting custom eartips, as part of my review of Etymotic's mc3 Headset + Earphones ( ). After purchasing the headphones, the customer registers the product with Etymotic's Website, makes an appointment with a participating audiologist (found through the ACS site), and prints a voucher that covers the the audiologist fees. (Etymotic Research and ACS actually handled some of these details for me, but the process is straightforward.)
The closest audiologist to me was about a half-hour drive away. The appointment took less than half an hour, and much of that time was consumed by small talk with the friendly doctor—the actual process of taking ear impressions was very quick. First, an intern examined my ear canals to make sure they were clean and clear (I was told that if significant cleaning—of, say, wax buildup—was required, that might cost extra). She then placed a soft plug deep into each ear canal and slowly injected a soft foam into each ear; the plug keeps the foam from going too deep. In five to ten minutes, the foam had set into a soft solid and was carefully removed. The process wasn't uncomfortable—the foam just felt a little cold and wet.
One interesting bonus here is that once the foam is removed, you get to see the shape of your ear canals. I found this revealing: The audiologist commented that I had ear canals "you could drive a Mack truck through" and that were "an audiologist's dream." This also finally confirmed my theory, developed over the course of reviewing many in-ear headphones, that larger-than-average ear canals accounted for my frequent difficulties with universal-fit eartips.
The worst part of the Custom-Fit process came after the visit: the waiting. Due to a mixup at the audiologist's office, the shipment of my ear impressions was delayed by two weeks. I suggest you call your audiologist's office a few days after your visit to confirm that the impressions have been shipped. Once ACS receives them, the company contacts you for payment (not necessary for my review sample) and shipping information, and then makes the eartips. Just shy of nine weeks after my appointment, I received a package from ACS. If it weren't for the shipping mixup, this would have been within the advertised time of four to eight weeks, but I found it interminably long. (An ACS representative told me that the company hopes to reduce the turnaround time significantly by mid-December, in time for the expected holiday rush.)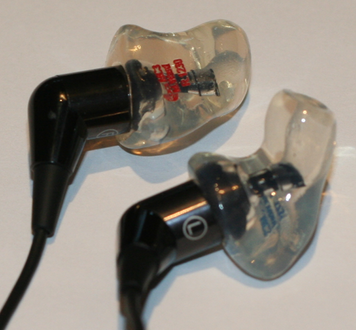 The package I received included my custom eartips, a carrying case (probably not necessary if you plan to leave the tips on your headphones, but a nice touch), and instructions for fitting the eartips. The eartips I received are made of a soft, clear, anti-microbial silicone (though you can choose other colors), and sport color-coded labeling: blue for left and red for right. These labels include the ACS logo, your first initial and last name, and the model number of the canalphones for which the eartips were made—because every canalphone is different, custom eartips fit only your specific model (and perhaps others with the same stem design). ACS can also add custom text or logos upon request.
The eartip labels also include a serial number associated with your particular ear impressions. ACS keeps impressions on file for four years in case you need a replacement or want a set of eartips to fit other headphones. ACS makes custom eartips and earpieces for Etymotic, Shure, Ultimate Ears, Monster, Klipsch, Sennheiser, and ACS's own headphones. For Custom-Fit-program customers, additional Etymotic eartips are $100, with eartips for other brands priced at $150, though there's a 15-percent discount for additional sets of eartips purchased on the same order.
I had expected, perhaps naively, that custom eartips would be easier to insert than standard eartips, but this was not the case. Because they fit only one particular way—they're custom-made for each ear's peculiarities, after all—fitting takes a bit of practice. (ACS says "a small amount of a natural cream" can help ease insertion if you're having trouble, but I found a little bit of spit worked well and was more convenient, if less hygenic.) With a good fit, I got a seal comparable to Etymotic's stock triple-flange silicone tips—not any better, but still great isolation. Audio quality was similarly unchanged.
One minor issue I had was that without a bit of moisture, the eartips would slide out just a little from their proper depth, leaving me with a seal that was not as good as that of the universal-fit tips. Given that several Macworld editors also have custom-made eartips from ACS and don't need to moisten them to get a good fit, I contacted ACS. The company representative said that I shouldn't need this added step, and that it's possible my eartips had a minor manufacturing issue. The company is sending me a new set, which is the normal procedure when a customer reports a fit issue.
Though the custom eartips didn't improve isolation, what did change was the canalphones' comfort. Previously, I'd found that most universal-fit silicone tips start to become uncomfortable after an hour or so, while more comfortable tips such as Etymotic's glider tips or foam Comply Tips ( ) can be comfortable for two or three hours (but, for me, don't provide quite as good of a seal). But because my ear canals weren't exerting pressure on the custom tips to make them conform to each canal's shape, I found that I could wear the custom eartips as long I wanted to—three or four hour listening sessions were not a problem, and I suspect they'd be comfortable for longer periods, too.
If you like Etymotic's canalphones and spend a lot of time listening to them (or would like to), the Custom-Fit tips are well worth their $100 price. They're also a bargain compared to competing options. Plus, there's something fun about owning something uniquely tailored to fit you. The custom eartips from Etymotic and ACS are an affordable luxury that add to your enjoyment of already excellent products.