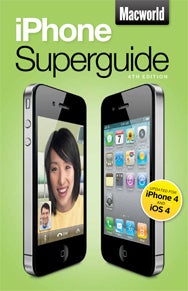 Do you own an iPhone or iPod touch? Plan on buying one for your significant other, parents, or favorite aunt for the holidays? Maybe you're just hoping Santa got your letter and leaves a shiny new device in your stocking.
iPhone and iPod touch users of all stripes will be able to get more out of their devices with our latest Superguide, a freshly updated fourth edition of Macworld's iPhone and iPod Touch Superguide, now available on Apple's iBookstore, as a PDF, and on CD.
This books covers the latest updates to the iPhone and iPod touch product line, including iOS 4, the iPhone 4, and the fourth-generation iPod touch models. And if we do say so ourselves, we think it's a great gift to give to someone who's just starting out with the iPhone or iPod touch.
In this 174-page book, we cover the basics—such as setting up a new iPhone and downloading apps—and then dive into the details. We'll show you how to sync, video chat, set up e-mail, set up your media library, fill your device up with music and movies, and more.
The book also has our recommendations for must-have third-party apps, advice on how to troubleshoot your iPhone or iPod touch and fix common problems, and even recommendations for the best cases, headphones, speakers, and other accessories.
The iPhone and iPod Touch Superguide, Fourth Edition is available in several formats, so you can choose the one that works best for you. If you'd like to access to the book from your iPhone, iPod touch, or iPad, you can download it from Apple's iBookstore for $9.99 (you must be on an iOS device to access the iBookstore). If you'd like to read the book on your Mac or want to have a designed book for printing, look to our PDF version, available for immediate download for just $12.95. The colorful PDF also looks great on an iPhone, iPod, or iPad screen. If you don't want to download the PDF or would like a way to give it as a gift, you can also have it mailed to you on CD-ROM for $12.95.
Not convinced? If you want to see more before you commit, we've created a downloadable sample PDF that includes the book's complete table of contents as well as sample pages.
Be sure to check out the other books in our popular Superguide series, including Mac Troubleshooting, Mac Basics, Total Snow Leopard, and a collection of the greatest OS X Hints.
64GB iPod Touch (fourth generation, late 2010)
32GB iPhone 4 (GSM, AT&T)
32GB iPod touch (fourth generation, late 2010)
16GB iPhone 4 (GSM, AT&T)