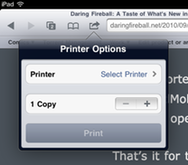 One of the most significant and anticipated additions to iOS 4.2 (due this month) is AirPrint, a feature that enables wireless printing by iOS devices. But it's starting to look like some aspects of AirPrint may not be operational when iOS 4.2 arrives.
Some reports suggest that Apple may have scaled back the capabilities of AirPrint, removing the ability for Macs and PCs to share their local printers with iOS devices. (Nobody is questioning the status of AirPrint's ability to print directly to a limited number of HP printers, which apparently remains solid.)
Originally, Apple said that not only would the AirPrint feature allow users to print directly to compatible wireless printers to be offered from HP, but users would also be able to print to shared printers available on their Macs and PCs.
Mac developers have reported that Apple posted pre-release versions of Mac OS X 10.6.5, a forthcoming update, which included initial support for AirPrint sharing. But now those developers are reporting that Apple has removed references to the shared-printer functionality from documentation, as well as from the software seeded to developers.
"There's nothing in 10.6.5 for sharing printers to iPads," one developer, speaking on the condition of anonymity, told Macworld.
Publicly, Apple has said nothing about the change. On the topic of AirPrint, Apple's page on the 4.2 update says only "Print mail, photos, web pages, and more directly to a printer on a wireless network."
Apple spokesperson Trudy Muller made a similar statement to Macworld, saying: "With iOS 4.2 available this month, iPad, iPhone and iPod touch users can print to directly to AirPrint compatible printers without the need to install drivers or download software. HP is bringing AirPrint to their fall lineup of ePrint printers including the Photosmart, Officejet, Officejet Pro and LaserJet Pro series." Muller declined to comment about enabling Macs and PCs to share a printer with iOS devices via AirPrint.
Some reports have erroneously interpreted the removal of AirPrint references in 10.6.5 as the feature being "cancelled," which isn't accurate. One irate user laboring under this misapprehension even e-mailed Apple CEO Steve Jobs about it, prompting a response from Jobs saying that "AirPrint has not been pulled," along with an admonishment not to believe everything that one reads.
Still, reducing AirPrint's functionality could diminish the appeal to many users: instead of being able to share their existing printers with their iOS devices, they would have to buy a new AirPrint-compatible printer.
Of course, there's nothing to say that the shared-printer functionality of AirPrint won't surface at some point in the future—or that enterprising third parties won't figure out a way to bridge the gap. But for now, at least, it appears that iOS devices will not handle quite everything that's fit to print.