I will readily confess that I have always found salons to be frightening places, with their strange noises, ambiguous chemical smells and happily loud people. It was, therefore, with a certain apprehension that I undertook to review Gamehouse's Sally's Salon Luxury Edition, which, I am happy to report, is not nearly as stressful as the real thing.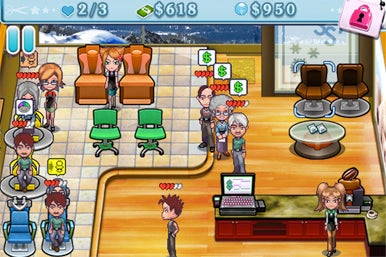 Like the original Sally's Salon that Macworld reviewed back in the days of iOS 2.1, in this refreshed edition you play the titular Sally, up-and-coming owner of the homonymous salon, as she makes her way through the world of hairstyling and beauty. Your aim is to make customers happy by dying, cutting, curling and styling their hair, in the process convincing them to pay money that you can then use to upgrade your equipment or hire help for when the store gets busy (and, believe me, it will get busy).
The customer's happiness is dictated by a number of factors, including how quickly they are served and whether you interpret their wishes for the ideal hairdo. As with every time-management title, therefore, it is only by juggling the various styling stations in the optimal way that you can ensure your patrons' willingness to wait their turn and pay for your services. Otherwise, clients will simply sit around, waiting to be told what to do and getting increasingly angry (or, in the game's parlance, losing one of five "heart points" that indicate their contentedness) until eventually they will leave without conducting any business.
The refreshed Sally's Saloon features a much more nuanced gameplay than its predecessor. In addition to the grind of serving customers, the various trinkets you can avail yourself of to help keep customers at bay during the busy times, like coffee, magazines and the ever-so-helpful assistants, have been integrated much better into the game. This, together with a redesigned level progression, results in a much smoother learning curve that doesn't feel boring at the beginning, only to become impossible to handle with little or no warning.
In addition to the normal adventure mode, the game includes a hair-rising "survival" mode—a sudden-death game whose aim is to never let a customer get so angry that he or she decides to leave. It's every bit as difficult as its name implies, and I strongly urge you not to try it until you've had a chance to familiarize yourself with the gameplay.
Sally's Salon features crisp, Retina-friendly graphics and background muzak that doesn't get in the way—which, given the addictiveness of this title, is a good thing. The only real drawback is the control mechanism, which are not as precise and responsive as they should be. This is not a big issue at the beginning, but it quickly becomes a problem as the game's difficulty progresses to levels where a quick response is important.
[Marco Tabini is a frequent contributor to Macworld.]