The first of the Treasure Seekers series of hidden object games makes its way from PC to iOS with Treasure Seekers: Visions of Gold from G5 Entertainment.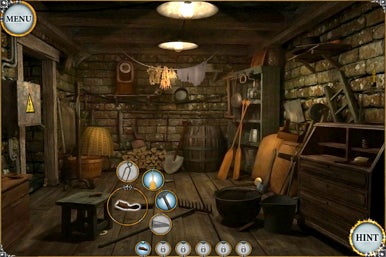 Treasure Seekers: Visions of Gold is a hidden object game in which you must help Nelly and her brother Tommy discover the secrets of their grandmother's hidden pirate treasure. To do so, you'll have to hunt down objects hidden across seven different sites and solve a number of puzzles along the way. Games like these reward those with attention to detail as objects are placed in extremely detailed scenes forcing you to scour every square inch very closely. You can take your time, because there is no time limit. Just find the items you need when they're needed, and you'll advance to the next level.
The intricate scenes from the PC version are faithfully preserved here with gorgeous graphics and Retina display support. Each setting is a work of art with sound effects and subtle animations that add to the ambience. Tap and drag hidden objects to their destination, and pinch to zoom in to find the smallest of items. At times the interface was a little quirky when the game tried to scroll the screen and not the object or vice versa. However those quirks aside, the interface is uncluttered and straightforward. The mini games provide a nice change of pace, and you can choose to skip them if you wish. Game Center integration support is included.
Hidden object games aren't for everyone, however Treasure Seekers is a good example of the genre. There is a Lite version if you want to give it a go, and those with iPads can purchase the separate HD version where finding objects gets easier on the larger screen.
Treasure Seekers: Visions of Gold is compatible with any iPhone, iPod touch or iPad running iOS 3.0 or later.
[James Savage is the host of the RetroMacCast a weekly podcast devoted to older Macintosh computers. He wonders if playing these games will help him find his car keys.]