When you think about it, it's amazing how much actual work you can get done with just an iPhone, iPad, or iPod touch. You can create, read, and edit everything from documents to email and spreadsheets from just about anywhere.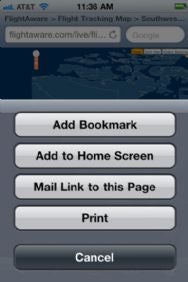 But let's face it, beautiful as it is, the iPhone's screen doesn't allow you to view much of a large spreadsheet or document all at once. Sometimes you just need a hard copy. While you can get most anything from your iOS device to a printer, it can be a clunky, time consuming hassle. That explains why AirPrint was the one of the most anticipated features of iOS 4.2, the new operating system for Apple's mobile devices. At launch, however, AirPrint is so limited as to be of little use to most people.
How limited? At this time, AirPrint will work with just five recent printers from HP. Unfortunately, it appears that a feature that would allow you to print from an iOS device to a printer shared on the network by a host Mac has been, at the very least delayed, if not dropped entirely.
The lack of printing capabilities has been a sore spot for many iOS device owners. Several printer companies, like HP, Epson, Kodak, and Brother, have taken it upon themselves to release apps to allow photo printing from an iOS device to specific models when both are connected to the same wireless network. Third party apps have also stepped in and attempted to fill this feature hole, but they could be expensive and require downloading and running software on a host Mac to which a printer must be attached.
While we wait and see what features future releases of the iOS bring, here's how to print using iOS 4.2 today.
First, you'll need a handful of things: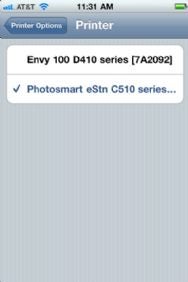 1. iOS 4.2 installed on a compatible device
iPad, iPhone 4, iPhone 3GS, or iPod touch (third generation and later)
2. AirPrint compatible HP printer:
HP Photosmart Premium Fax e-All-in-One Printer—C410
HP Photosmart Premium e-All-in-One Printer series—C310
HP Photosmart Plus e-All-in-One Printer series—B210
HP ENVY 100 e-All-in-One Printer Series—D410
HP Photosmart eStation Printer series—C510
3. Wireless network
Once you have your iPod, iPad, or iPhone updated and connected to a wireless network, you should see a new entry titled Print when clicking the Sharing menu icon in Mail, Safari, and Photos. AirPrint now works with Safari, Mail, Photos, iWork, and third-party apps with built-in printing.
Click the Print button and a Printer Options menu will appear, allowing you to select a printer and to choose the number of copies you want to print.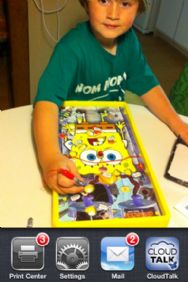 If you've already chosen a printer, its name will appear. Otherwise, hit Select Printer and AirPrint scans your wireless network for a compatible printer—at this point, one of the five HP printers noted previously.
Select the printer you want, the number of copies you need, and hit Print.
And it just works. You can view or cancel your pending print jobs—and I received a notice when the HP Envy began running low on ink.
Of course this smooth, yet limited functionality just makes us want more—more compatible printers from different vendors, more apps with printing services, and more control over print quality. The ability to print in grayscale to save ink would also be welcome.
HP will be offering firmware updates for a number of its older models in the months ahead. Let's hope other companies follow its lead, and that Apple fulfills the promise of cross-platform wireless printer sharing in the weeks and months ahead.
[Updated with new information at 1:30 p.m. PST.]