No news may be good news, as the saying goes, but social media company Taptu thinks there's such a thing as too much news. So the software maker has come out with a mobile app that it thinks will help users get a better handle on the headlines that matter to them.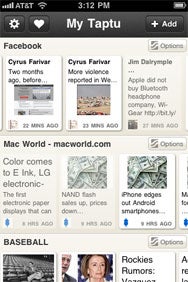 The app— My Taptu—is billed by Taptu as a "social news aggregator." The idea behind the free app is that straight RSS feeds can overload you with information and headlines you don't really care about—"filter failure" is how Taptu CEO Mitch Lazar describes the problem. My Taptu aims to tackle that dilemma by providing more control over those streams and displaying them in an at-a-glance view that lets users easily dive in for more information.
You can add single streams from specific providers in My Taptu, of course. But the app also offers topic streams that are curated by Taptu's editorial team and offer content from a variety of sources. You can also narrow down the scope of a particular topic. For example, the news feed features subcategories such as finance, political, and health news in addition to feeds from ABC, CBS, USA Today, and other sources—you can pick and choose which streams you want. For sites that aren't made for mobile devices, Taptu uses in-house technology to convert content into visual streams for the My Taptu app.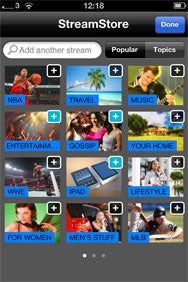 You can also include social networking sites in your My Taptu feeds—specifically Facebook, Twitter, and LinkedIn. Add any of those feeds to your app, and tweets and status updates will appear alongside your other streams.
My Taptu stacks your feeds on top of another in a vertically scrolling list. (You set the order in which they appear using the app's Settings screen.) You scroll horizontally to see all the items in a particular stream, and when you reach the last item, My Taptu will update the stream with older posts. Tap an item to read a short summary; for more detail, you launch My Taptu's built-in browser to go directly to the article or post. The idea, Lazar says, is to give you quick access to all the information you want in a single app.
"We wanted our customers to be able to open [My Taptu] and use the app as if they've already used it," he added.
In addition to its arrival on Apple's App Store, My Taptu is also available as an Android app. The iPhone version runs on iOS 3.0 and later.