[Editor's note: The following article is part of our Which Mac is right for you? series.]
Expensive computers are a lot like sports cars: You get (and pay a premium for) style and performance. However, most people don't need the added performance and panache—that's why general-purpose sedans sell so well. The MacBook is the four-door sedan to the MacBook Pro's sports car.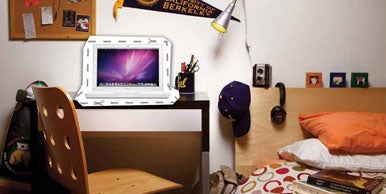 Average consumers like me don't need a screaming-fast processor or more RAM than they know what to do with. All that's necessary is a reliable, competent, useful computer. Having a decked-out computer with a massive amount of processing muscle gains you little if you don't use it. I have a great experience with my MacBook without all the bells and whistles. So what if someone else's programs open a few seconds faster? Are those few seconds really worth hundreds of dollars? I don't think so.
As a college student, I take my MacBook to class daily. I take notes with EverNote, write papers in Pages, and listen to music with iTunes. In my off time, I enjoy watching television on Hulu.com. Occasionally, I'll do some photo editing in iPhoto or Photoshop, or possibly edit a video in iMovie. My MacBook has always performed admirably.
Portability is a major issue for me. I go to school in Washington state, but my permanent residence is in California. I need a computer I can take with me, and I really can't see myself lugging a massive desktop computer back and forth. Even the Mac mini wouldn't work, because I'd have to lug a monitor around.
On the other end of the portability spectrum, there's the MacBook Air, which is great…if you want an overpriced, rectangular frisbee instead of a computer. The 11-inch Air costs hundreds of dollars more for less processing power and storage space; though I've asserted that power isn't everything, you're getting a lot less power for a lot more money with the MacBook Air.
The MacBook Pro is the MacBook's greatest competitor, and while it may seem like there are some major weaknesses with the MacBook, they don't justify the purchase of a MacBook Pro. True, the MacBook doesn't have as many horses under the hood as the MacBook Pro, but most people don't need to be editing photos in Photoshop while cutting footage in Final Cut and mixing tracks in Logic. As long as you don't go trying to play three Flash-based games while watching a video on a MacBook, you'll be fine.
The MacBook's plastic shell isn't flashy, but it shares the same sleek and classy design as every other Apple product. And unlike Apple's metal products, the MacBook won't give you a nasty shock if you happen to have built up a static charge.
Some diehards might miss having a FireWire port on the MacBook for an external hard drive, but in my multiple stints as an intern for Macworld, I have yet to run across a modern hard drive that uses only FireWire. Plus, FireWire hard drives are more expensive than their USB-only counterparts. I'd rather not break the bank for my storage.
If you're looking for an affordable Mac laptop that does everything you need without sacrificing quality, look no further than the MacBook. All things considered, it's the best Mac for the average consumer.
[Blair Hanley Frank is a four-time Macworld summer intern. He is a student at Whitman College.]