[Editor's note: The following article is part of our Which Mac is right for you? series.]
During most of my 19 years as a tech journalist, I thought that desktop computers were the only way to go. Notebooks had small screens and didn't have enough processing oomph.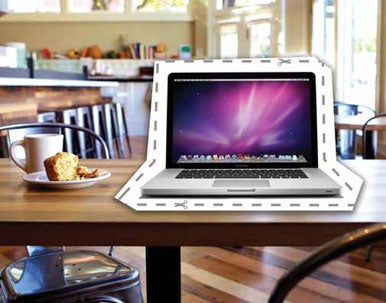 Times have changed, and fortunately, so have notebooks. For me, Apple's MacBook Pro has the processing power I need, and its portability gives me freedom I won't find with a desktop computer like a Mac mini or an iMac.
I spend my day working on content. When I'm not editing or writing in Word, analyzing lab data in Excel, posting articles through the company's Web-based content-management system, or making final changes in InCopy to my section in the print magazine, I'm editing home videos in Final Cut Express, adjusting photos in Photoshop, helping various family members with projects like podcasts and presentations, writing e-mails to fellow PTA members, and perusing and posting to various Websites like Flickr, Facebook, and Twitter. I spend a lot of time in front of the computer (too much time, you might say). So I want a Mac that can handle a wide variety of tasks and won't have me twiddling my thumbs for very long as I wait for a process to finish.
Desktop computers have the processing power I need, and they definitely have more power than the MacBook Pro. But I'd look stupid lugging an iMac into my local coffee shop, so I'm willing to give up a bit of power for the mobility. I used to not care about mobility, especially before the advent of wireless connectivity. But now it's easy to find a Wi-Fi connection, and I'm no longer confined to my home office or Macworld headquarters.
Why not save a few bucks and go with a MacBook? In my opinion, a Mac without FireWire (like the MacBook) is a crippled machine. USB 2.0 is enough for most people, but when I'm backing up a high-definition video, I don't want to wait. The difference in price between the MacBook and the entry-level 13-inch MacBook Pro (which both have the same processor and hard drive) is only $200; that additional money buys you FireWire 800, two more gigabytes of RAM, an SD card slot, and an aluminum enclosure (I'm not a fan of the white plastic).
As I mentioned earlier, I don't like small screens, and, for me, a 13-inch screen is too small. I prefer the 17-inch MacBook Pro, which also has a $50 option for an antiglare screen that's well worth the money. I'm about the size of a retired football linebacker who's let himself go, so I can handle the weight and size. The big screen allows me to work on several projects at once efficiently and easily. The 15-inch screen suits me just fine, but it's the 17-inch screen I prefer.
The MacBook Pro is the ideal Mac for anyone who demands processing power while out and about. It offers a terrific combination of performance, features, and portability. If you have an older desktop Mac, you'll even find that the MacBook Pro is quite a capable desktop replacement.
[Roman Loyola is a Macworld senior editor.]
Apple MacBook Pro MC372LL/A Notebook
Apple MacBook Pro MC373LL/A Notebook
Apple MacBook Pro MC375LL/A Notebook