[Editor's note: The following article is part of our Which Mac is right for you? series.]
As a company, Apple seems almost maniacally devoted to creating the very smallest products it possibly can. That iPod shuffle with no buttons. The super-thin iPod touch. An Apple product thicker and heavier than the previous generation? Unthinkable.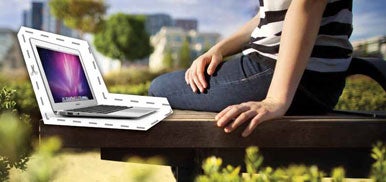 Yet while that philosophy has usually served the company well, when it comes to laptops, the überlight products have always been more of a cult hit. The 12-inch PowerBook and iBook had their fans—I was one of them, willing to run a slow, feature-hobbled Mac because it was so damned small.
Having read that, it should come as no shock to you that I am similarly a proponent of the MacBook Air. The first few Airs were flawed—and I've used one more or less every day since it was released. But in October 2010, the MacBook Air came of age.
The 11-inch Air is the smallest Mac laptop you can buy. All Airs come with high-resolution screens and full-size keyboards, but are very thin and weigh less than three pounds. And with internal flash storage, they're quiet and pretty rugged. (As someone who carried his laptop on his back every day for a decade, the fewer pounds in that backpack, the better.)
The Airs aren't powered by the latest, fastest Intel processors. But the shortcomings in processor speed are somewhat compensated for by the speed of the flash storage and graphics processor. And the fact is, many people never take advantage of the speed of the Mac systems they've got. If all you're doing is Web browsing, e-mail, and word processing—the three most common tasks you use a computer to do—the Air won't bat an eye. In fact, unless you're playing the most advanced 3D games or editing mounds of HD video, you'll find that the Air holds up just fine.
Serious computing-power types will scoff. Let 'em. I'll take a tiny, light laptop over a heavy one every time.
[Jason Snell is Macworld's editorial director.]
Apple MacBook Air MC504LL/A Notebook
13.3-inch MacBook Air/1.86GHz (128 GB)
11.6-inch MacBook Air/1.4GHz (128 GB)