[Editor's note: The following article is part of our Which Mac is right for you? series.]
Over the years, I have owned a number of Macs. From my first Mac, the PowerBook 100, to the iMac G5, and to the MacBook Air, I've been smitten many times by different Mac models. But my latest Mac of choice is a Mac mini, which replaced my Mac Pro.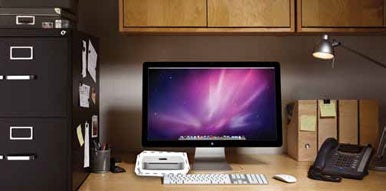 When I bought my Mac Pro in 2006, I wanted (for the first time in my life) to have the best, fastest, most powerful Mac. The Mac Pro was very practical: it had four hard drive bays, allowing me to add storage for my music collection; it could hold more RAM than I needed; it even had room for a second optical drive, which I added to rip CDs faster; and it was fast, with two dual-core 2.66GHz processors. Maybe I was going through a midlife crisis thing, though by choosing a zippy computer instead of a fast car, my choice was certainly more economical. It felt good to have such a mean machine, even if I didn't use it at anywhere near its full potential.
Eventually, I had a change of heart. The noisy Mac Pro gave off a lot of heat, and it was overkill. I use my Mac for writing, Web access, managing my music collection, and some basic Web coding. I don't do video, I do only simple image editing, and I'm not a gamer. The applications I use most are Mail, Safari, BBEdit, iTunes, and NetNewsWire, as well as productivity programs like Word, Pages, and others. In short, I was using a supercomputer to do meat-and-potatoes tasks.
When looking to replace my Mac Pro, in spring 2009, I considered both the iMac and the Mac mini. I was immediately enchanted by the Mac mini's small footprint and quiet performance, and the fact that it offered just the computing power I needed. It's not fast, but I don't need speed. It doesn't hold a lot of RAM, but 4GB is fine for what I do. It's compact, uses little power, doesn't heat up my office, has an optical audio output, and can even handle two monitors. (One other reason I didn't opt for an iMac is the fact that I already had an external monitor.)
The concept of using such a tiny box as my main, desktop Mac is seductive in its simplicity. The one thing the Mac mini did most to win me over was to disappear: I hardly realize that I have a computer anymore, because I don't hear it and I barely see it. One friend I talked into buying one even told that it was "cute."
The Mac mini is a bit short on USB connectors, but all you need is a hub. The Mac mini doesn't have a lot of internal storage, but I have two external hard disks connected to it via FireWire 800. The internal hard drive is a tad slow (5400 rpm), and I recently replaced it with a hybrid drive (a combination hard drive and solid-state drive), which makes it much faster. I'd love an internal flash-storage option on the Mac mini; I also have a MacBook Air with flash storage, and the difference is notable.
The only time I really miss the Mac Pro is when ripping CDs. The Mac mini's drive reads CDs at only 24X. I had added an internal 52X drive to my Mac Pro because I buy and rip a lot of CDs. I bought a third-party external CD drive, which takes up more space than the Mac mini itself. CD ripping gives the Mac mini's processor a workout, but what's a couple of minutes more per CD to have such a small, economical computer?
Perhaps it's age—as I get older, I get wiser—but my ideal Mac is one that does what I need without getting in the way. While I'm sure Apple will come out with other Macs in the future that will accomplish this even more effectively, for now the Mac mini is the computer that works best for me.
[Macworld Senior Contributor Kirk McElhearn writes about more than just Macs on his blog Kirkville. Twitter: @mcelhearn.Kirk's latest book is Take Control of iTunes 10: The FAQ.]