[Editor's note: The following article is part of our Which Mac is right for you? series.]
It used to be that if you were a "pro," you needed a Mac Pro—it was hands-down the fastest Mac you could buy, and it was the only Mac that was truly expandable. In fact, the iMac was so much less powerful and so limiting in comparison that many home users opted for the Mac Pro.
I'm a perfect example: I rarely perform complex rendering, mathematical, or scientific tasks, and I only occasionally process video beyond using iMovie. As a technology writer, most of my time is spent using writing and publishing software such as BBEdit, Word, and InCopy; Internet-related programs such as Web browsers, e-mail clients, and RSS readers; image-editing and management apps such as iPhoto, Acorn, and, occasionally, Photoshop; and media software such as iTunes and HandBrake. But I also test scores of other applications each month, and I regularly have 20 or more programs running simultaneously. I occasionally play games on my Mac, and I can't work efficiently without at least two displays. Just a few years ago, an iMac would have been woefully inadequate for my needs. So I got a Mac Pro.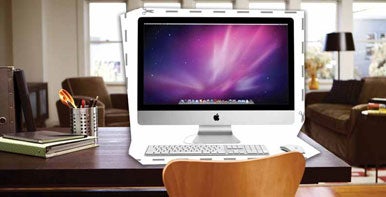 Boy, times have changed. Today's iMacs are, for most people, no longer compromises. They use powerful processors—indeed, today's iMacs offer the best bang-for-the-buck of any Mac model—they can hold up to 16GB of RAM, and you can even equip them with a capacious, 2TB hard drive and a speedy, solid-state drive (SSD). They use high-quality, LED-backlit, IPS (in-plany switching) displays and include a discrete video card with up to 1GB of video memory. They even sport a handy SD-card reader. Call these the semi-pro Macs—the high-performance Macs for the rest of us.
I've talked to more than a few Mac Pro owners who've made similar observations and have decided that their next Mac will be a "downgrade" to an iMac. I recently made that switch myself, trading in my 2006 Mac Pro for a Core i7-equipped, 27-inch iMac (alas, sans SSD).
It wasn't a decision I made lightly: Unlike many computer users, I actually took advantage of the Mac Pro's expandability by using most of its RAM slots, installing an eSATA card and an additional optical drive, and filling all four hard-drive bays. I can live without the second optical drive, but my work requires that I have several media-storage and bootable hard drives, and the current iMacs each have only a single FireWire port (and no eSATA).
On the other hand, the Mac Pro has some considerable disadvantages of its own: It's big, it's noisy, it uses gobs of power, and it can heat up a room faster than a small space heater. The lastest iMacs, on the other hand, are relatively quiet, run much cooler, and use a fraction of the electricity.
And, of course, there's the price: A 2.93GHz Quad-Core i7 iMac, tricked out with a 2TB hard drive and 12GB of third-party RAM, costs about $2,600—just $100 more than the entry-level Mac Pro, which sports a 2.8GHz Quad-Core Xeon processor, 3GB RAM, and a 1TB hard drive. But the iMac is faster at many tasks and includes a 27-inch display—a $999 option for the Mac Pro. The Mac Pro's expandability means it may last a year or two longer, but in, say, two years, I could sell the iMac and upgrade to the latest and greatest at a reasonable cost—and that new iMac will likely be quite a bit faster than a two-year-old Mac Pro.
In the end, I opted for the iMac for all these reasons, turning to a couple dual-bay FireWire 800 enclosures for my extra drives. With the i7 processor, 12GB of RAM, and 2TB of internal storage, the new iMac has more than enough horsepower for my needs; it lets me connect my existing Apple Cinema Display for acres of screen real estate; and it's saving me money on both electricity and (during the summer months) air-conditioning bills.
Bottom line: If you work in one of the few fields where eight or 12 processor cores, PCI slots, multiple hard-drive bays, and more than 16GB of RAM will truly make you more productive, the Mac Pro is the way to go. But for the "semi-pro" user like me, today's iMac is mighty appealing.
[Dan Frakes is a Macworld senior editor.]
27-inch Core i5 iMac/2.8GHz (quad-core)
Price When Reviewed:
$1629.95
27-inch Core i3 iMac/3.2GHz
21.5-inch Core i3 iMac/3.2GHz