[Editor's note: The following article is part of our Which Mac is right for you? series.]
My job is about as Mac-based as you can get—I'm half the team that makes up Many Tricks, creator of Mac software utilities. My job covers "everything but coding," so I'm involved in sales, marketing, tech support, creating help files for our apps, updating our Website, e-mail correspondence with customers and press, business modeling, pricing decisions, and just about anything else you can think of that's not directly related to writing code. So obviously, I spend a lot of time in front of my Mac.
To get my job done, I rely on a number of tools on my Mac: FileMaker Pro, Mail, Firefox, Safari, Google Chrome, iCal, iChat, Coda, The Hit List, Excel, Keynote, Pages, Word, QuickTime, OmniGraffle, Photoshop, Preview, BBEdit, and many others. There are also the supporting apps that make my time on the Mac more productive: Path Finder, Transmit, Dropbox, DejaMenu, Growl, TextExpander, 1Password.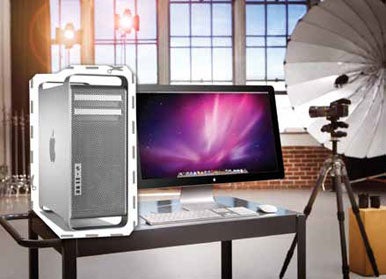 Then there are the other programs not related to work or productivity: Vienna for RSS feeds, Final Cut Express for my home video editing, iDVD for creating DVDs for relatives, iPhoto for managing pictures, iTunes for my music, Nambu for Twitter, and a slew of games, including X-Plane, Call of Duty, and a number of Steam games. (To those other deserving applications that I use, but whose names I've forgotten to mention, my apologies!)
I do all of this on a 2006-vintage Mac Pro, and I wouldn't have it any other way, except maybe to do it all on a newer Mac Pro. That's right, my name is Rob Griffiths, and I'm a Mac Pro addict. Given that, just a year ago, I espoused the merits of the new iMacs and asked why anyone would "go Pro" when the iMac offered such a compelling price/performance package, you may be wondering about my choice of Mac.
The reality, though, is that I'd be lost without my Mac Pro. It offers a set of features you can't find on any other Mac. For example, I've filled all four of the Mac Pro's internal drive bays—so no unsightly FireWire drives clutter up my desk.
The performance of this four-year-old machine is more than sufficient for my current needs. Sure, I'd love to have more speed, and will upgrade at some point. But for now it certainly doesn't make me feel like I'm using some slow mrelic of a Mac, and it handles my gaming needs quite well.
One of the biggest advantages of the Mac Pro is its size. This is a beast of a machine, and there's room in the case for those four hard drives, multiple video cards, and more RAM. In my case (literally), I've got two video cards installed, and I run my Mac with three displays—I have 6,427,296 pixels of screen real estate to work with. Having this much screen space available is a huge boon when running 10 or 15 applications at a time, and the Mac Pro is the only machine Apple sells that allows you to connect more than two displays. (Also, not a single display has a glossy screen; the only other way to get that today with a desktop Mac is to buy a mini.)
So the Mac Pro is fast, it's got room to grow, and it can drive more than two displays. What's not to like? Well, the Mac Pro is huge, so it's not something that's fun to take in for service—thankfully, I've never had to do that in my four years with it. It's also expensive. Fully decked out, a Mac Pro can cost more than a nice family car.
But you get what you pay for. My Mac Pro is still as usable today as it was four years ago. In that time, I've gone through two laptops and two iMacs; in the case of both of these models, I upgraded because new ones came out that were clearly superior and did more of what I wanted them to do. But through all that time, my Mac Pro has soldiered on, making easy work of my day-to-day Mac tasks, with enough power left over in the evenings for me to indulge in some relaxing gaming.
[Macworld Senior Contributor Rob Griffiths is Master of Ceremonies at Many Tricks.]
Mac Pro Xeon/2.4GHz (8 Core)