Japanese film buffs will welcome the news that Apple has finally rolled out the ability to rent and buy movies from the iTunes Store in their home country.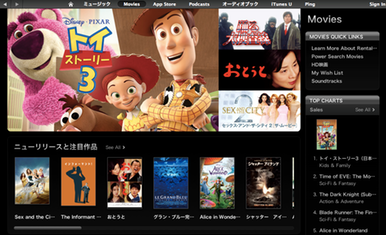 All five major film studios—Disney, Warner Bros., Universal, Paramount, and Fox—are onboard, as well as several Japanese studios, including Asmik Ace, Fuji TV, Shochiku, and Toei. That will give Japanese users access to both domestic and international titles. Presumably most of the movies are dubbed in Japanese, though the store does haves a specific section for subtitled movies, including recent releases such as Sherlock Holmes and Harry Potter and the Half-Blood Prince.
As in other countries' stores, rentals are valid for 30 days, though Japan also gets the longer 48-hour watching period that's available in every store except the U.S., which remains limited to 24 hours.
Rentals start at ¥300 for HD library titles and ¥500 for new HD releases with SD versions running ¥200 for library titles and ¥400 for new releases. If you want to buy, you'll have to shell out ¥2000 for HD catalog titles and recent releases and ¥2500 for new releases; the SD versions run ¥1000 for catalog titles, ¥1500 for recent releases, and ¥2000 for new releases.
In addition, Apple notes that the Apple TV started shipping in Japan this week, where it's available in the online Apple Store and from Apple Authorized Retailers for ¥8800.
Japan's iTunes Store joins France, Ireland, Germany, New Zealand, Australia, Canada, the U.K., and the U.S. in offering movie downloads.