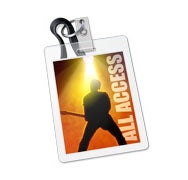 Musicians weren't left out of Apple's spate of software updates this week. Late Wednesday, the company released an update to MainStage that promises performance and stability fixes to the Logic Studio component.
MainStage is a dedicated app for live performances. It lets musicians perform with instruments and effects via their Mac.
MainStage 2.1.2, released Wednesday, offers improved compatibility and stability with MainStage 1.x documents. It also promises better handling of Pitchbend and Sustain events.
More detailed release notes for the 2.1.2 update indicate a number of fixes for MIDI processing and Playback plug-in issues. The update adds support for various MIDI controllers.
On the stability front, the update resolves an issue in which a screen control mapped to Level or Input Level with its On Patch Change attribute set to "Match" would cause the application to quit. The update also stops MainStage from quitting unexpectedly under heavy loads when Playback reaches a cycle point or when users choose patches in quick succession from the patch browser. An issue where the application stop responding when the font size was adjusted for a screen control has also been addressed.
The 211.70MB MainStage 2.1.2 update is available for download from Apple's Website.