I don't know what it is, but there's something about the combination of the iPad and calculator apps that seem to make developer's brains turn to jelly. Or at least that's the impression I came away with after testing a trio of iPad-based calculators recently.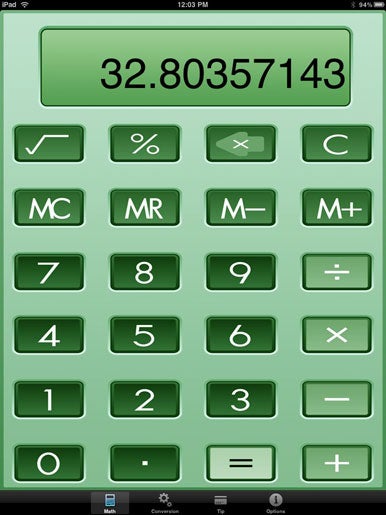 NJDev's Calculator HD – CalcPad, CrowdCafé's Calculator HD for iPad, and Luke Campbell's Calculator XL are all calculator apps designed for the iPad that may perform well as calculators, but also seem to be overwhelmed by the vast screen space offered by the iPad. The apps either fill that screen with way too much calculator or clutter it up with unnecessary decorations.
Calculator XL, as the name implies, is a very large calculator that performs basic numeric calculations, offers eight types of unit conversion, and a tip calculation tool. You can also customize the color of your calculator. The app offers no options for scientific calculation. Calculator XL's size may be beneficial for those with difficulty seeing small type, but otherwise makes poor use of the iPad's extensive real estate. Unfortunately, this just makes the app feel big and kind of kludgy.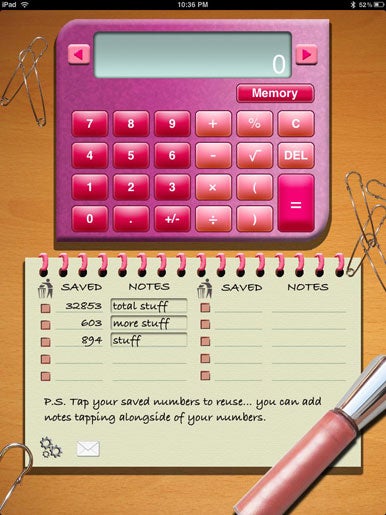 Calculator HD – CalcPad is a free calculator app that, like Calculator XL, offers basic calculator functionality along with some customization options and a unique notes feature for saving up to ten calculation totals. Again, no scientific calculation features available here. For customization, CalcPad offers four different options for your calculator desktop and lets you change any text so that it displays in one of five languages. However, no matter what language I selected, notification dialogs displayed in Italian. While the app handled basic calculations well, I found that because the calculator appears above my collection of saved totals, it was easy for me to accidentally touch one of those numbers, which ended up erroneously inserting it into my calculation.
Of these three ginormous apps, CalculatorHD for iPad offers the best, most complete set of features, albeit, with a rather large dollop of faux desktop tchotchkes to dress it up as well. While the other two apps are pretty much standard issue calculators, CalculatorHD offers up several scientific functions, including squares, cubes, sines, cosines, and tangents, as well as a random number generator, and—if you choose—a tape of all your recent calculations. Tapes of calculations can be sent either as text within an e-mail or as an attachment, but the tape can only be displayed when the calculator is using a basic set of buttons.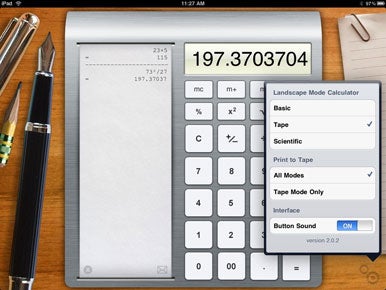 Which leads to an important point about all three of these apps. Designing an app around an overly decorative desktop or making it extremely large just because you have the space misses the potential benefit of the iPad's screen. I love CalculatorHD's tape feature, but I hate that I can't use it with the scientific calculator, and it seems like I'm sacrificing that functionality for the sake of decorations. That, to me, seems like a waste. So, while all three of these apps do what they're supposed to, for me, they don't quite do all that I'd like. And none of them will make you forget PCalc any time soon.
[Jeffery Battersby is an Apple Certified Trainer, (very) smalltime actor, and regular contributor to Macworld. He writes about Macs and more at his blog.]