Editor's Note: The following article is reprinted from Macworld UK. Visit Macworld UK's blog page for the latest Mac news from across the Atlantic.
Those who complain about the cost of Apple products should note an Apple-1 is currently up for sale for a cool £150,000.
Around 200 of the computers, rudimentary by today's standards, were sold in 1976 from now-Apple CEO Steve Jobs parents' garage.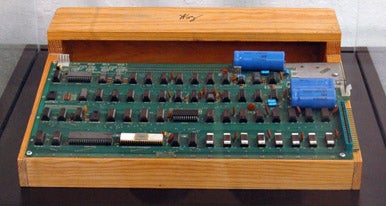 Christie's of London will be selling the Apple-1, which originally retailed for a demonic $666.66, after Jobs partner Steve Wozniak reportedly liked repeating digits. The auction house has valued the Apple-1 between £100,000 and £150,000 prior to the auction.
The lot comprises components from the Apple-1, original manual and packaging along with a letter from Jobs.
"Original printed wrappers, stapled, with original company logo to upper wrapper and warranty within decorative border to inside rear wrapper (short split at foot of spine) — double-sided illustrated advertisement sheet with prices — original typed invoice for Apple-1 and Apple cassette interface totaling $741.66 dated 12/7/76, with salesman named as Steven," Christie's notes.
The Christie's lot description reads:
APPLE-1 — Personal Computer. An Apple-1 motherboard, number 82, printed label to reverse, with a few slightly later additions including a 6502 microprocessor, labeled R6502P R6502-11 8145, printed circuit board with 4 rows A-D and columns 1-18, three capacitors, heatsink, cassette board connector, 8K bytes of RAM, keyboard interface, firmware in PROMS, low-profile sockets on all integrated circuits, video terminal, breadboard area with slightly later connector, with later soldering, wires and electrical tape to reverse, printed to obverse Apple Computer 1 Palo Alto. Ca. Copyright 1976.
"Before the Apple-1 you would have to put together your own motherboard and would need soldering skills," Julian Wilson, from Christie's told the Mail Online.
"This is the forerunner of the iPod, iPad and iPhone. It worked straight out of the box, which was the original concept. Apple's lineage can be traced back to this model and as far as we know there were about 200 made and perhaps a quarter survive."
Jobs appeared happy to help early Apple adopters, Wilson suggests.
"Not only does this come with the packaging and manuals but also a letter from Steve Jobs. He appears to be answering questions from the customer about what monitors and keyboards are best to use.
"The computer technically allowed you to programme and it was like a high-performance calculator. This one comes with an extra cassette interface, which meant you had a read-write capability.
"At the time it famously cost $666.66, and the cassette interface was an extra $75. Steve Jobs sold these from his parents' garage and there is a growing appreciation of the history of computing—and this is where home computers started. And finding one in this condition is unheard of."
Christie's adds: "The first Apple-1s were despatched from the garage of Steve Jobs' parents' house—the return address on the original packaging present here. It is not clear how many Apple-1s were sold, but by April 1977 the price was dropped to $475, and it continued to be sold through August 1977, despite the introduction of the Apple II in April 1977 (a major advance with integrated keyboard, sound, a plastic case, and eight internal expansion slots). It was officially discontinued by October 1977."
The Apple-1 goes on sale at Christie's on November 23.
Image by Marshall Astor