The past week in iPhone 4 cases has been a good one for iPhone photographers: two of this week's new arrivals feature tripods, one of them also letting you mount your iPhone on any standard tripod for stabilization. We also have a few offerings of heavy-duty protection for the active iPhone user, and something for the kids as well. Read on and see for yourself.
BaseOneLabs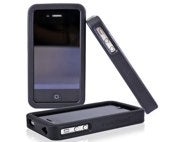 BaseOneLabs's Impactband ($22) is a heavy-duty bumper made of TPU that absorbs energy from shock and impacts, dispersing it around the band instead of into your precious phone. The case extends beyond the edges of your phone to provide some protection for its face and back in case of drops, and the injection-molded material improves your grip on the phone.
Gear4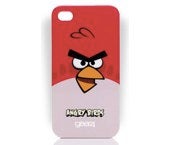 For those wanting to prove their allegiance to the popular Angry Birds iOS app, Gear4's upcoming Angry Birds cases ($24) will provide an easy way to express your love for the addictive, physics-based puzzle game. Details on these colorful hardshell cases are scarce, but the cases are expected to ship sometime in November and will feature backsides emblazoned with your favorite characters from the game.
Incipio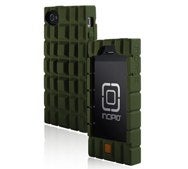 Few cases look tougher than Inipio's Bombproof Silicone Case ($30). The high-density silicone case oozes with machismo, thanks to its Army-green color scheme and elevated ridges resembling those of a grenade. Despite its near-bulletproof design, the case retains full access to all of your iPhone's ports and buttons. If your Droid-toting buddies are making you feel like less of a man over your choice of phone, the Bombproof could make for the ultimate rebuttal.
Joby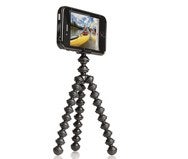 At long last, Joby has released its popular Gorillamobile flexible tripod and bumper case for the iPhone 4 ($40). The Gorillamobile is a much-loved portable, flexible tripod whose legs consist of a series of interlocking round joints. This allows you to use it like a traditional tripod, but also bend, twist, and wrap it around other objects for extra versatility.
Gorillamobile for iPhone 4 includes a protective bumper case that works as a rail system for the stand's connector clip, as well as a universal camera-adapter clip so you can use the stand with a traditional camera. You can position your iPhone horizontally or vertically on the tripod mount.
USBFever
USBFever's Back Cover Case for iPhone 4 with 3D Graphics ($13) is a no-frills, plastic iPhone 4 case that features a 3D design on the back cover. The lightweight case provides protection from bumps and scratches, and offers easy access to all your device's ports and buttons. The colorful 3D designs—which include sports balls, butterflies, and a "virus" theme—on this affordable case make it an appealing gift for children and teens.
XShot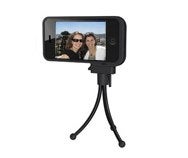 Capitalizing on the iPhone 4's impressive built-in camera, XShot's XShot iPhone 4 Case ($25) comes with a detachable tripod adapter, letting you mount your iPhone 4 to tripods, camera extenders, and other stabilizing devices. The two-piece, snap-on plastic case protects the back and edges of your iPhone, while the universal tripod adapter lets you take stabilized photos in both landscape and portrait mode. The case even comes with a mini flexible tripod to get you started taking great-looking photos. The case is available for pre-order now and will ship in late November.