No compass? No problem.
That seems to be the attitude of Vito Technology, at any rate, when it comes to the app maker's latest update for its Star Walk mobile app.
Star Walk is a $3 planetarium app that lets you explore the universe from your iPhone or iPod touch. Chief among its features—at least for iPhone 3GS and iPhone 4 users—is the ability to point your device at the night sky and have the images on the screen correspond to where you're looking.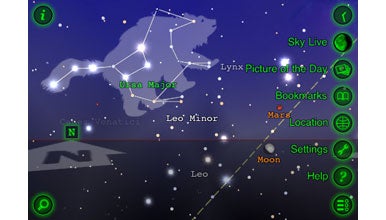 With Thursday's Star Walk 5.0 release, owners of the latest iPod touch models can enjoy those same enhanced capabilities, thanks to the app's new augmented reality feature.
The fourth-generation iPod touch may not have a built-in compass, but it does have a gyroscope. And that's what Star Walk 5.0 exploits to give users a view of the sky. All users have to do is point the iPod touch's camera toward an object like the sun or the moon; from there, they swipe the sky that appears on their iPod touch screen until it matches the view of the real sky. At that point, the iPod touch's gyroscope can detect movements just like a compass, giving 4G iPod touch users access to the same features iPhone owners enjoy.
Augmented reality isn't the only addition in Star Walk Walk 5.0, which gets a number of enhancements aimed at both iPhone and iPod touch owners. A new satellite-tracking feature lets you know if that blip in the sky is a star or a satellite; it also lists when the international space station will be orbiting overhead and where in the sky you'll be able to spot it. The update adds the ability to connect your iOS device to a secondary screen or a projector—ideal for teachers and astronomy clubs, according to Vito Technology.
A new TelRad features measures angular distance between nearby stars, helping users find objects with a telescope. Vito Technology says it also enhanced the content of Star Walk with more deep sky objects, galaxies, and nebulae.
Vito Technologies also released a 5.0 update for the iPad version of Star Walk, a separate $5 app from the iPhone and iPod touch edition. The iPad release adds many of the same features as the iPhone update, most notably satellite data, the TelRad feature, and the ability to connect a display to the iPad.