Corel Paint It Show, a $1 iPad app from Corel, transforms your photos into painted and penned works of art right before your eyes.
This fun little app lets you choose, mix, and match your photos for a unique slideshow. It also integrates seamlessly with Facebook, which is great for folks like me who don't keep all their photos in one place.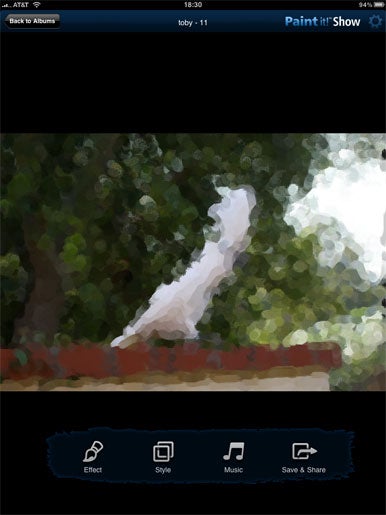 Paint It recreates your photos, brush stroke by brush stroke, in the artistic style of your choice (oil, impressionist, modern, and so on). As it does so, the app plays music stored on your iPad in the background. When your masterpieces are done, you can share them via e-mail or Facebook, or just save them in your iPad's photo library. You can even save unfinished photos if you like the way they look.
What makes Paint It special is watching the transformation of your normal photo into something akin to a painted work. This isn't an app that puts the creative tools in your hand—you'd have to turn to something like Brushes or SketchBook Pro for that kind of iPad app. Still, it's quite entertaining to watch your iPad's screen, as your favorite photo builds from abstract color blotches into a cohesive, recognizable image. The fun you'll have with and the results it produces are certainly worth the $1 Paint It costs.
[Dunham Shalat is a writer and video editor in Los Angeles.]