With the free Kodak Pic Flick, printer maker Eastman Kodak has joined the ranks of Epson, HP, and Brother in offering an iOS app—or two, in the case of Epson—for printing to their networked devices.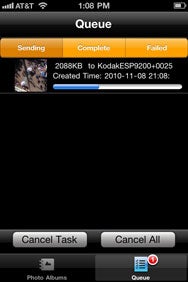 In addition to the Kodak's ESP 7250, ESP Office 6000 Series, and ESP 5250 all-in-one printers, Pic Flick can also send photos from your iOS device to Kodak EasyShare W820 and W1020 digital picture frames. And while not on the list of compatible printers, I was able to print from Pic Flick with an ESP 9250 all-in-one device.
After downloading Pic Flick, you need to make sure that your iOS device is connected to the same network as the printer or frame you want to send photos to. You can then select photos from you iOS device's Camera Roll or if your iOS device has a camera, you can take and transfer a photo from within the Pic Flick app.
After selecting or taking your photo, tap on Select Device and all supported Kodak printers and frames on your network will show up. Select your preferred device and tap Send to print a single 4 x 5 inch photo, or tap on the gray Printer icon next to the name of your printer to change the size of your print (up to 8.5 x 11-inches) and then number of copies of the print you need. You can then check the Queue button at the bottom right of the app's screen to see the status of your job or jobs.
Light on features, Pic Flick doesn't offer any image-editing tools, quality choices, customizable frames, or color options like black-and-white or sepia. That said, the prints I sent from Pic Flicks looked identical to the prints produced when sending the same photos from an iMac using Preview or Photoshop.
Unfortunately, I didn't have a compatible digital picture frame around, so I was unable to check how Pic Flick interacted with those devices.
While it may be limited in features, customization and device compatibility, Pic Flick makes it easy to produce quality color photo prints from your iOS device—if you have a supported printer or digital photo frame. And it saves you the trouble of having to transfer those images to your Mac first.
[James Galbraith is Macworld Lab director.]