Sega's ChuChu Rocket! is a puzzle game for the iPhone adapted from a Sega Dreamcast game of the same name. With an anime aesthetic and chock-full of Japanese stylized cuteness, ChuChu Rocket! is a bizarre if endearing Cat and Mouse chaser. It is also one of the more challenging puzzle games out there for the iPhone.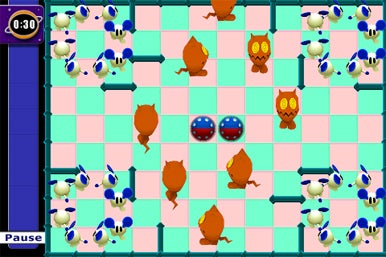 In each of ChuChu Rocket's fifty levels, you're tasked with guiding mice to safety while avoiding cats. Each level is presented in an overhead perspective wherein you will find mice and cats frozen on the maze. On the left of your screen, you will see a start button. When you press the start button, the cats and mice will begin to move. Mice and cats move along predesignated paths and unless you intervene, will collide and cause you to lose. Your objective is to not only have to get the mice to avoid the cats, you also have to get the mice to safety aboard rocket ships elsewhere on the maze.
Below the start button, you'll find a list of direction arrows. You can take direction arrows from the list and place them on mice paths to tell the rodents where to go. To place an arrow, you have to swipe your finger across the area you want it to be in. The direction you swipe will determine the direction the arrow points to. The challenge is you only get a limited amount of direction arrows to work with and so you'll have to plot the direction arrows wisely to ensure that the mice will avoid the cats and get to the rocket ships.
Arrow placement can only be done while cats and mice are frozen. Don't worry though, you don't have to be psychic to determine where to place your direction arrows. You can press the start button without placing arrows and then watch where the mice will move without them. You can then restart a level (which requires only a simple touch of the start button) and decide where to place your arrows.
The game has a multiplayer function that lets you play against up to three other players. Multiplayer is similar to single player, but with some borrowed characteristics of Hungry, Hungry Hippo. In multiplayer, players see the same maze. Each are assigned their own rocket ships. Like in single player, a bunch of mice move across the screen. Using game arrows, it is your job to direct more mice to your rocket ship than your opponents will to theirs.
Chu Chu Rocket offers challenging puzzles that you're unlikely to complete on your first try. In my experience, you really have to pay close attention to cat and mouse walking patterns before you decide where to place directional arrows—too often I thought I had solved a specific level only to see a cat gobble up one of my mice. While I often got placement wrong, instead of being frustrated, every mistake compelled me to keep playing the game. Luckily, there is no game penalty for improper arrow placement; you just have to restart levels. ChuChu Rocket! makes you want to keep playing it, which can't be said about some other games for the iPhone. The game may have a weird aesthetic and an even stranger concept, but it's plenty fun.
[Sam Felsing is an editorial intern for Macworld.]