Electronic Arts has been steadily marching ports of its major sports titles, to the iOS for some time now, which makes the recent release of NBA Elite 11 a significant "first" for the video game giant— EA announced last week that it is canceling the long-delayed console edition and instead will be offering NBA Elite 11 exclusively on the iPhone.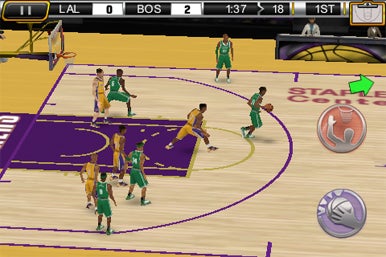 The sheer novelty of having EA's amazing video games on your mobile device has been reason enough to buy and enjoy them, but all in all (if we're being honest), the ports have been disappointing in comparison to the console titles, and you'd probably guess the same would be true of NBA Elite. Fortunately, you'd be wrong.
Thanks to EA being the gaming powerhouse it is, NBA Elite is fully licensed, which means that you'll have all 30 NBA teams and 450-plus players to choose from, not to mention the opportunity to unlock 30 past-NBA legends as you play. For that extra little slice of realism, EA will also make full rosters downloadable for free so your teams can reflect actual mid-season roster changes.
Overall, EA's $5 game is a wonderful improvement on NBA Live 10 and is an App Store-novelty as the only basketball game to offer full-court 5-on-5 action. Graphically, the game looks incredible, especially if you're playing on an iPhone 4, and may be the best-looking basketball on the iPhone. From actual gameplay to the instant replays to the polished floors—everything on NBA Elite 11 speaks of refinement.
From first-launch, a tutorial will take you through the basic controls of the game, teaching you how to run, shoot, and dunk using the virtual d-pad on the left side of the screen as well as the two action buttons on the right. Buttons change based on whether you're on offense or defense, and you can hold down the right button to choose the teammate you'd like to receive your pass. Free-throws from the charity stripe utilize the accelerometer, which you use by tilting your iPhone back and then forward to shoot. All in all, the controls are responsive and easy to use, and gameplay is fast and smooth, like an Allen Iverson cross-over.
The game offers three difficulty settings (Rookie, Veteran, and All-Star), as well as the ability to choose from three game modes (Exhibition, Full Season, or Playoffs). You can access All-Star teams in Exhibition Play and Season Modes, with Season Mode including a full 82-games. If you're not willing to sit through a full season, you can simulate individual games to speed things up. Winning championships allows you to unlock an NBA legend, who you can then draft in your next season.
Other cool features of NBA Elite 11 include the ability to choose from three different camera angles, with "TV Mode" changing camera angles until it finds the best angle, and "Baseline" and "Corner" modes fix the camera in those positions; the famous 3-Point Shootout is also available, pitting you against other All-Stars in an intense, fast-paced mini-game that will no doubt have you excitedly tipping and tapping, and inevitably making it rain. It may even have you fist-pumping in the middle of your bus ride. On the audio front, the game thrives thanks to a noteworthy soundtrack and in-game acoustics. Though personally I found the NBA announcing peanut gallery of Jeff Van Gundy, Mark Jackson, and Mike Breen to be utterly annoying.
Of course, NBA Elite 11 is not all happy alley-oops, brisk cross-overs, and double rainbows – there are some drawbacks. EA, for some reason, seems loathe to the idea of including a multiplayer mode or online connectivity in their sports games, which would significantly improve the addictiveness-factor. It would also be nice to have an online leaderboard for 3-Point Shootouts and Full-Season, so you can track how badly you're beating your friends, as well as a fuller array of tricks and jukes, and maybe even a slam-dunk competition. Also, be warned, there is the potential for graphical glitches, as arms sometimes move in different directions then passes, and the frame-rate can be slow on an iPhone 3G. Shaq could also look a little bigger as many of the player models are similar.
On the whole, NBA Elite is a surprisingly enjoyable experience; the graphics are solid, and the players seem to pop off the screen. It's well worth the purchase for sports and basketball fans and may even be the best basketball game in the App Store.
[Rip Empson is a frequent contributor to Macworld.]