Chalk this up for another indication that iOS 4.2 is on its way: late last week, Apple activated its Ping social networking features in the iPad's iTunes app.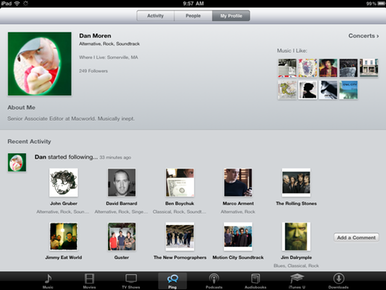 Just in case it's already escaped your memory—for which we wouldn't blame you in the slightest— Ping is Apple's music-based social network, letting you keep tabs on the musical tastes of both your friends and artists. Apple first rolled out the feature in iTunes 10, and added it to the iPhone in iOS 4.1, but it wasn't scheduled to arrive on the iPad until iOS 4.2. However, this isn't the first time the company has remotely enabled features in the App Store and iTunes apps on its devices—it did the same thing when it rolled out Genius features in the iPhone 2.1 and iPhone 3.1 software.
On the iPad, Ping appears as a button in the toolbar at the bottom of the iTunes app. Tapping it brings up the timeline of your friends, allowing you to see their purchases, likes, follows, and comments. Tap the People tab at the top to see a full list of people who you're following or who are following you, along with recommendations of others to follow and profiles of people that Apple is featuring. You can also go the My Profile section to see your personal information as well as a timeline of your recent activity.
Ping on the iPad also brings access to Concerts. Tapping this link from your profile will bring up a list of concerts near you, as well as letting you view which of the artists you follow (or have recently purchased songs by) are currently on tour and where. You can even tap a button to buy tickets: iTunes will open Safari and take you to the purchasing site.
Of course, whether or not this will help bolster the somewhat lukewarm adoption of Ping is hard to say, but rest assured that if you want to be kept up to date on what music your friends are buying, you can now do so on your computer, iPhone, or iPad. In fact, it may be impossible for their musical tastes to escape you ever again—which, to my mind, is the definition of "mixed blessing."