The second-generation of Apple TV marked a new direction for Apple's "hobby," and Fire Core, makers of the aTV Flash add-on, are working to keep pace. The developer recently offered a progress report on updating aTV Flash for the new Apple TV, and said that a public beta isn't far away.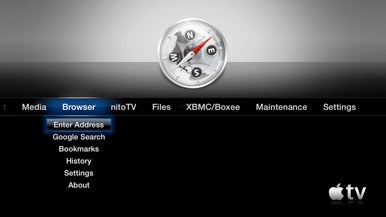 For those unfamiliar with the program, aTV Flash is a third-party replacement for the Apple TV software that adds features that Apple's own software lacks, including support for content on external USB hard drives, a full-screen Web browser, a Last.fm music streaming app, broader support for video formats, and more.
A post on Fire Core's official blog says that the developer is pretty close to finishing an aTV Flash update for the new Apple TV. Apps like Couch Surfer (the Web browser) and Last.fm are coming along nicely and, unlike previous aTV Flash versions, Fire Core says the new installer requires no wires or USB dongles to begin the setup.
In a previous progress update, Fire Core mentioned that it might be able to enable HTML5 streaming, which could open the Apple TV up to content from even more services. There is also a remote possibility that Flash video may be supported as well, though Fire Core provided no details on how that might work; like the iPhone, iPod touch, and iPad, the second-generation Apple TV runs on iOS. It's possible Fire Core could be planning to implement a system like Skyfire, the iPhone Web browser that uses a clever server-side trick to convert Flash video as you browse, then deliver it to your device in a format compatible with iOS.
Speaking of iOS, though, there is plenty of speculation that the Apple TV may get its own App Store some day. Such a store might largely obviate the need for aTV Flash, since it's a safe bet that media-centric apps like Last.fm, Pandora, and perhaps even a Web browser could be available on the device. Still, some of aTV Flash's core features, such as support for playing content on an external hard drive and the potential for jailbreaking to run unapproved apps, should maintain aTV Flash's appeal for those who want to harness the full potential of the Apple TV. Anecdotally, my wife and I originally bought aTV Flash solely for the ability to play our 800GB+ library of mostly video content without having to keep a Mac running in another room to stream it all.
As far as when you can give aTV Flash a spin on your Apple TV 2.0, Fire Core says a public beta should be available within a week or two. We'll let you know when we hear something.