Moving in its usual mysterious ways, Apple on Monday teased an iTunes-related announcement to happen on Tuesday at 10 a.m. Eastern, 7 a.m. Pacific.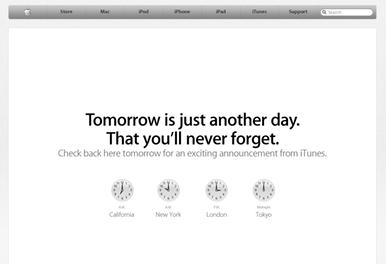 Far from being shy, Apple altered its entire homepage to feature the text "Tomorrow is another day. That you'll never forget." The company said to check back on Tuesday for "an exciting announcement from iTunes." The same banner appeared in the top spot on the iTunes Store as well.
For the moment, I'll overlook the sentence fragment issues in the text—hey, I am an editor—and move right on to the speculation. Macworld contributor Scott McNulty immediately suggested—somewhat in jest—that Apple might at long last add The Beatles to its catalog (though, in such a case, it would have seemed more appropriate for the text to read "Yesterday. All my troubles seemed so far away.").
Senior contributor Kirk McElhearn echoed The Beatles suggestion, though he also speculated that we might finally see the arrival of streaming capabilties from the company's acqusition of Lala late last year, or possibly the addition of the rumored 90-second song previews—though that last would probably be a bit anticlimactic for such a build up.
For my part, I'd wager on the streaming service. The parts seem to be in place, and I found it somewhat surprising that there was no such announcement at Apple's annual music event in September. Anything less—and yes, despite being a Beatles fan, I'd include them under that heading—would likely appear underwhelming. Regardless, tune in tomorrow at 10 a.m. Eastern, 7 a.m. Pacific for our full coverage of Apple's announcement.