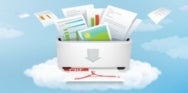 Adobe on Monday launched its much-anticipated Acrobat X Pro program, along with a pair of two new cloud-based subscription services to enable the creation and sharing of PDF documents.
Acrobat X Pro offers users new features such as the Quick Tools customizable toolbar and the Action Wizard, which allows the automation of multi-step tasks that can then be applied to a single document or batches of files.
Acrobat X Pro also offers new customization options for PDF portfolios, allowing professional users to create and share custom layouts and themes for consistent branding. The program's printing options and preview tool have also been upgraded, and the company promises Acrobat will have tight integration with its services at Acrobat.com. Acrobat X Pro costs $500—or $200, if upgrading from a previous version of Acrobat—and is compatible with Macs running OS X 10.5.8 or 10.6.4.
The cloud-based services are Adobe SendNow and Adobe CreatePDF. SendNow is a document exchange service available that lets users send, download, track, and manage documents; the service helps users avoid e-mail gateway issues, FTP servers, or the need to print documents and send them through the postal service.
CreatePDF enables online PDF creation from computers that aren't running Acrobat, using the browser to convert files created by Microsoft Office, Adobe InDesign, Photoshop, Illustrator and other supported programs. The services each cost $10 for a monthly subscription, although free trials are available.