Back in May, Comcast teased its subscribers with an iOS app that would turn the iPhone and iPad into a remote and possibly a one-stop entertainment center. Well, the Xfinity TV app has finally arrived for iOS devices—right now, though, it's largely a remote that lets you search for content, change channels, and program your DVR.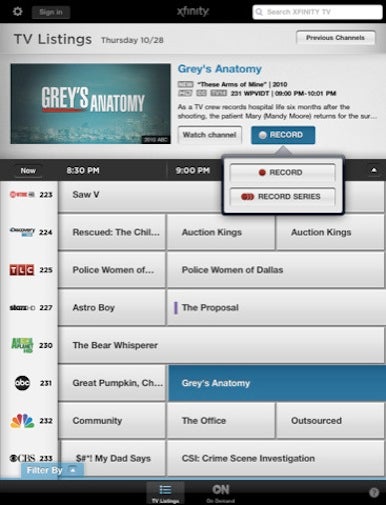 The browsing and search functions do much what you would expect: you can scroll through listings, tap on a show, and watch it on your TV; you can also sort content by genre or search by keyword. In addition, the app lets you browse Comcast's On Demand programming and bring it up on your TV.
At this point, the app seems to be a glorified TV guide, but Comcast is promising more. The company says it will release a series of app updates so that you'll soon be able to stream video content to your iOS device. Other promised features include a personalized watch-list and integration with social networking sites. Comcast also plans to release apps for other platforms like Android and Blackberry.
The Xfinity TV app is available now for free in the App Store, but it won't do much if you're not a Comcast cable subscriber or don't have one of the compatible set-top boxes. You'll need an iPad, iPhone, or iPod touch running iOS 3.2 or later.