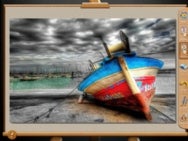 A new application for iPad allows users to "splash" color into their photographs—and soon they'll be able to print their worked-over pictures directly from the tablet device.
Photo Delight was launched Monday by Global Delight, maker of the Camera Plus and Camera Plus Pro apps. The new app pulls photos from a user's picture library—or from a Facebook account—and automatically converts it to a black-and-white image. Users can paint with an adjustable brush that reintroduces color into portions of the photograph, creating dramatic color images of objects or people against a black-and-white background.
Finished images can be shared via e-mail, Facebook, Twitter, and Flickr. After Apple releases its iOS 4.2 mobile operating system, which is expected to arrive this month, users will also be able to print the finished pictures directly from their iPad using AirPrint.
Photo Delight costs $2 and is compatible with iPads running iOS 3.2 or later.