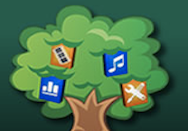 As the holiday season approaches, the bundles start to fly. And so The Mac Bundles is doing its thing, providing a package of 12 apps for just 50 bucks. Some of these apps may be more appealing than others, so the site also lets you Build Your Own Bundle (BYOB), ordering apps à la carte for $5 (if you pick 10 altogether) or $6 (if you pick 5).
The menu of apps for November includes: BookMacster (a browser bookmark app), Clean Text (a text formatting tool), HoudahSpot (a file searcher), IconBox (an icon customizer), iMedia Converter (a DVD ripper and video converter), MenuEverywhere (a menu-bar add-on), PrintMagic (a print utility), RingTone Studio (what else but an iPhone ringtone creator?), Screen Mimic (a screen recorder), Simon Bronze (a site monitoring tool), StockMarket Eye (an investment tracker), and WebsitePainter (a web editor).
The clock is ticking for the bundle, though, as this deal is available through November 28.